NEW L.L.Bean
February Break Kids' Camp
Full of expert instructions and fun adventures
to help your child get out and play
Learn More (PDF)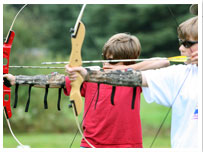 Overview
Location:  Freeport, Maine
Ages:  6-13
Dates:  June 24 - August 23
Hours:  Monday - Friday, 9 a.m. to 4 p.m. (8 a.m. early drop-off and 5 p.m. late pick-up are available for an additional fee).* Sign up by the day or the week.
Whether your child attends for a day, a week or all summer, they will always remember their thrilling outdoor adventures at L.L.Bean Kids' Camp. Located on Maine's beautiful coastline, our Lower Flying Point recreation area is a safe and fun place for campers to explore. Guided by expert instructors and experienced counselors, campers will enjoy "epic" adventures and a wide variety of small-group activities including canoeing, kayaking, stand-up paddleboarding, archery, fly and spin casting, and slack lining. Other daily activities include arts and crafts, games, nature walks, learning about native wildlife and Leave No Trace® Outdoor Ethics.
Our Kids' Camp encourages campers to develop communication, problem-solving and social skills through participation in group discussions, games and leadership opportunities.
All equipment and supplies are provided – just pack a lunch and snacks. Special discounts are available when you enroll more than one child or sign up for multiple weeks; please call for details.
For more information or to register, call us at
1-888-552-3261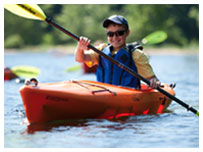 Rates
Camp Fee: $350 per child per week or $100 per child per day.
*Late Pick-Up/ Early Drop-Off Fees:
Early drop-off or late pick-up is available for $10 per day/$40 per week or $60 per week for a family (up to four kids total).
Early drop-off and late pick-up is available for $15 per day/$65 per week or $85 per week for a family (up to four kids total).
Nine-Week Camp Discount: Preregistration for the nine-week summer camp qualifies you for a 20% discount on the full rate.
Early Bird Registration Discount: Full payment before June 17, 2013, qualifies you for a 10% discount on the full rate.
Sibling Discount: Families registering more than one child qualify for a sibling discount of 10% on the full rate for each child.
Multiple Session Discount: Multiday and multiweek participants qualify for a 10% discount on the full rate for every day or week prepaid (days and weeks are not required to be successive).
Discounts are based on the full rate and cannot be combined with other offers or discounts.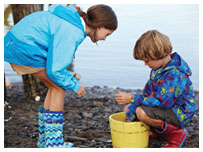 Typical
Day
Our friendly and experienced staff will meet and greet campers at L.L.Bean's Flagship Store. From there, campers will be shuttled to L.L.Bean Kids' Camp at our Lower Flying Point recreation area. In accordance with Maine transportation law, all children under the age of 8, under 80 lbs. and/or under 4'9" must be in a federally approved car seat while riding in the shuttle.
After all the campers arrive, the instructors and counselors will have a brief team meeting to outline the day's exciting adventures, divide the kids into smaller groups and play games to help campers get to know each other.
The morning and afternoon sessions will include exploring the great outdoors, adventure hikes, wildlife identification, canoeing, kayaking, crafts, archery, orienteering, games and more. Each day will include rest time for our youngest campers. During challenging weather days, we will have special activities in our new pavilion.
There will be time for the kids to reflect about their surroundings, the fun activities they've participated in and the new friends they've met. We will encourage them to share those thoughts in their group and their journals.
We will also assign these young campers responsibilities such as assistant safety watchdog, assistant chief navigator, communications spokesperson and more, to help them start developing basic leadership skills and gain confidence.
Throughout the camp, your child will collect stamps in their official "Passport" to the Outdoors, based on the activities they complete, and they will earn a special L.L.Bean Certificate of Accomplishment.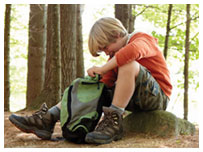 Packing Checklist
Backpack big enough to store all items on the checklist
Lunch extra snacks optional
Medications
Nonbreakable water bottle drinking water will be onsite
Sunglasses and hat
Sunscreen
Bug spray optional
Swimsuit and towel
Quick-dry scarf, towel or buff
Water shoes
Extra pair of sneakers & socks
Rain gear
Extra layer of warm clothing not cotton
Extra change of clothes in case they get wet
Waterproof journal or notebook in a ziplock bag
Waterproof camera optional
FAQs
Q. What is the difference between a counselor and an instructor?
A. Our counselors are responsible for safety, site preparation, logistics and lesson plan execution. They love working with kids and are excited to impart their knowledge and expertise to help campers develop essential outdoor and leadership skills. They'll become your child's "go-to grown-up" and will spend most of their days with the campers. These counselors have shown a commitment to childhood development and education through previous employment or education and maintain CPR and First Aid certifications.
Our instructors provide overall supervision and ongoing training for our counselors while ensuring overall safety protocols and program quality. These instructors hold certifications that may include Federation of Fly Fishers Instructor Certifications, American Canoe Association Instructor Certifications, and Wilderness First Aid or higher training and certifications. Most also hold Registered Maine Guide licenses in various outdoor specialties.
Our Kids' Camp is under the direction of a full-time Camp Supervisor who is responsible for curriculum, staff development, training and overall operations.
Q. When are my campers' registration and paperwork due, prior to their first day of Camp?
A. We welcome receiving your campers' registration materials as soon as possible. You must have your child fully registered, with the required paperwork turned in prior to your child attending their first day of camp. Call for details 1-888-552-3261. Registration materials can be faxed to 1-207-552-7552 or mailed to: LLBean Outdoor Discovery Schools Kids Camp, 15 Casco Street, Freeport, ME 04033. For more information email us at odschool@llbean.com.
Q. If my child requires a car seat, can I provide my own, or will L.L.Bean provide car seats?
A. Yes. As long as your child's car seat meets the Federal Motor Vehicle Safety Standards. Check this link: http://www.maine.gov/dps/bhs/restraints/child-seats/styles.html. Car seats not meeting this requirement are not permissible. L.L.Bean will also have federally approved car seats available.
Q. Where will I drop off my kids at the Freeport flagship store?
A. Our staff will meet and greet your kids at a safe, predesignated site.
Q. Will I have to fill out registration forms online?
A. We will send you, via email or the postal system, all the forms you need to fill out. They must be returned signed via a PDF, by Fax or by mail. Each child must have all the paperwork filled out and signed by a legal guardian or parent.
Q. If I'm signing up two kids and using the early drop-off, would the 10% discount be on the total of $760 (full rate + early drop-off fee) or $700 (full rate)?
A. The 10% discount would be applied only to the full rate of $700. The cost would be $630 ($700 minus your 10% discount) + $60 (early drop-off fee) for a total of $690.
Q. How many discounts can I use if I qualify for more than one?
A. You may use only one of the following discounts: Nine-Week Camp Discount; Early Bird Registration Discount; Sibling Discount; Multiple Session Discount.
Q. Is there a half-day option?
A. Children should be prepared to spend a full day with us. There will be time for resting and a comfortable pace throughout the day.
Q. My child has allergies – what should I do?
A. Please make sure we are aware of your child's allergies and provide us with appropriate medication should it be needed. The preregistration paperwork will have a question about allergies.
Q. Does my child need to be able to swim?
A. No. However, your child needs to be comfortable in the water with a life preserver. While in the water, all campers will wear a personal floatation device (PFD).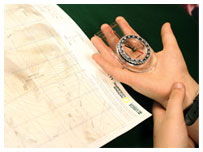 Q. Can my camper carry a cell phone or any other electronic device?
A. A waterproof camera is the only acceptable electronic device allowed and will be the responsibility of your camper.