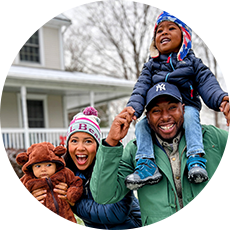 The Brooks Family
3 Min. Read | Ambassadors
Troy Brooks is a fitness pro, wellness coach/ brand consultant, and father, dedicated to helping people live better through a healthy, balanced lifestyle. In addition to inspiring people to cultivate their own wellness and get outside for some healthy fun, his wife Shantel and he, are also business partners on a mission to support other married couples in business together and create a community where people's lives are enriched through conversation, connection, and wellness.
Would you like to share any significant life/career updates?
We are writing a book together called Spartners, which seeks to help married people find the value in their spouse as a business partner. We plan to step on stage as professional keynote speakers in 2023 where we will share our experiences working together and provide tools to help others find the value of their spouse as a business partner so that they, too, can have autonomy, work with purpose, and build a legacy they desire together.
What is your best advice for someone who wants to live an active life in the outdoors?
Start now! Whether you live in a metropolitan, suburban, or countryside area as soon as you are outside you can get moving and begin to live an active life outdoors. You do not need much, just commitment, resilience, and an attitude of gratitude. Set aside a few minutes a day and stay the course. Celebrate small wins daily and watch your life transform.
"The outdoors help ground us, fill us, and rejuvenate us to be our best for ourselves and each other."
When faced with doubt or discouragement, how does time outdoors help you remain inspired and optimistic?
The past few years have been exciting, remarkable, and ground-breaking, but they have also given us moments of pain, discouragement, doubt, and sadness. Despite where we live, New York or metro Atlanta, spending time outdoors has always magically softened the punches, rejuvenated us with new encouragement and light, and fueled us with new energy. When we are outdoors, we can tap into nature and ourselves. We love the sun upon our faces and are grateful for how it always seems to lift us up above all.
Having moved to a new city recently, how did a love of the outdoors help you find new friends and community?
We love to get out and walk daily. It's one of the few things we can do no matter the day; it's free, all children and pets are welcome, and it makes us feel so good! Before our walking expeditions, we usually stop at a cafe, or afterward, we grab lunch and eat outside. Our vibe usually helps us attract our tribe during these moments. We often come across other like-minded people along our journeys. People like us who love to work with a view, relax, and enjoy the outdoors. Slowly, we are building a community of Spartners and friends who are looking for the same things we are.
Many look up to you and your wife as "spartners" (spouses and business partners). How do your shared outdoor experiences impact or influence your relationship?
We both love the impact the outdoors has on our soul, spirit, and, thus, our relationship. The outdoors allows us to test our limits, step out of our comfort zones and lean into each other. Our love for the outdoors was one of the main commonalities we shared when dating, and continues to serve us to this day, 10 years later. When we are stressed, want to start our day charged up, or want to have our business meetings on the go, we enjoy long walks on trails or through new towns; when we are tired or need some inspiration, we enjoy sitting outside, and when we feel playful or just need a change of scenery, we love taking long drives to discover the nature and communities around us. The outdoors help ground us, fill us, and rejuvenate us to be our best for ourselves and each other.
We often talk about the wellness benefits of going outside, but do you think that your love of the outdoors has helped you in your roles as a parent, partner, and entrepreneur?
Yes, definitely! We were both always outside as kids, and we want that same desire to play outside, explore nature and create new adventures to show up in our children. For that to happen, we must model it and show them how much we value it in our own lives. As a result, we are better parents for it, as we are motivated to take them to playgrounds, parks, trails, and lakes, as well as on plane rides, road trips, and soon-to-come camping trips!
We are also better partners for each other because the sun and outdoors help reset our moods and reenergize us to be active, present, and grateful for each other. Lastly, our love for the outdoors has helped us in our roles as entrepreneurs, as it is literally our office. We love the autonomy our work gives us and the freedom the outdoors provides us. The outdoors is not only our office but our playground, where we get to connect with other like-minded folks, get inspired with fresh ideas, and remain grounded with gratitude for the blessings and opportunities that allow our business to thrive.
What's your favorite L.L.Bean Product?
Definitely the Women's Boundless Down Puffer Vest. In Georgia, we experience 12 seasons within a day during the fall/winter months. it's crazy! Therefore, layering has become my middle name, and no outfit would be complete without this vest. It's lightweight, warm, and extremely stylish thus elevating anything I wear.