with L.L.Bean Partner Troy Brooks
During the Covid-19 pandemic, L.L.Bean Ambassador Troy Brooks and his wife decided to leave their condo in the city and rent a house on an acre of land while saving to buy their first home. They knew it would be important to have outdoor space to play, cook, work and raise children, and they learned so much more about how the outdoors also kept them connected and grateful. Here are four lessons on fatherhood Troy learned from this time outside – in his own words.
1. Fresh Air Makes Us Happier
I grew up in the city; I've lived in apartments most of my life. To see my son and my dog running around freely in our yard brings me so much joy! To see my wife tan as the sun kisses her skin brings peace. Nightly fire pits, the smell of the burning wood, looking up at the sky, and seeing stars, sometimes we smile at each other because we know we made the right move for our family.
2. Parenting Gets a Boost from Time Outside
Time outdoors has most definitely made me a better Dad. The outdoors has allowed me to connect with my son with no distractions; it has also allowed me to reconnect with nature, looking at birds, trees, flowers, and all of nature's beauty through my son's eyes. The other day we were at a local pond watching a family of ducks; he was so excited he gave me a big hug and said "I love you, papa." My heart melted. We are expecting our next son this August, and my only goal is to raise kind, loving, and compassionate young men.
3. Small Moments are a Big Deal
Watching our son Sage and our miniature schnauzer Avery play really brings me so much joy. They are the cutest duo. They are best friends. It's been wonderful to see them build their bond; it has been a blessing for them to have each other during quarantine. Seeing how much they enjoy being outdoors and having so much space really showed us owning a home was the focus for our family.
4. Making Time to Get Outdoors is Essential
It doesn't take much encouragement to get my family outdoors. Honestly. If the sun's out, we are always ready to get outside. It's just who we are. Although there is a rare occasion I need to get them outside faster, all I have to do is fire up the grill and turn on the speakers, and the vibe is set. Good food, sun, and music, we're outside till the sun goes down!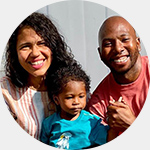 Troy Brooks is a fitness pro, wellness coach and brand consultant, dedicated to helping people live better with a healthy, balanced lifestyle. Learn more about Troy at www.thetbeffect.com or follow him on Instagram.