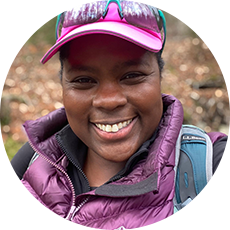 Mirna Valerio
She/Her/Hers
3 Min. Read | Ambassadors
This ultramarathon runner, bestselling author, inspiring speaker, and dedicated mom is breaking barriers and shattering stereotypes of what it means to be happy and healthy outside. By sharing her unique outlook on health awareness and promoting more diversity outdoors, she's empowering everyone to take charge of their own happiness.
What has been your most significant life moment or favorite outdoor experience this year?
I've been on a lot of adventures this year including cycling in Kenya, running through the colorful streets of San Miguel de Allende, exploring the trails of Whistler BC, testing my mettle on the volcanic rim of the Caldeira in the Azores, swimming in the Pacific… but my absolute favorite moment was closing on over 20 acres of pristinely wooded forest here in beautiful Vermont. Now I will have a place to bring my family, friends, and community to come and enjoy all that nature offers!
What is your best advice for someone who wants to live an active life in the outdoors?
The most important advice I have is to have a very loose definition of what being active in the outdoors is. It could mean taking your daily walk right outside your home or sitting on your porch enjoying a steaming hot mug of coffee. If you want different adventures, spend some time thinking about what you're curious about, and start taking steps to make it happen.
"The most important advice I have is to have a very loose definition of what being active in the outdoors is"
When faced with doubt or discouragement, how does time outdoors help you remain inspired and optimistic?
Being in the outdoors regularly allows me to do several things: Connect with nature. Clear my mind. Lower my blood pressure (science, folks!) Enhance creativity. Re-energize, and create opportunities for working through mental, emotional, and physical challenges. The things we learn in the outdoors are directly transferable to other areas of our lives. There have been many times where I've had a difficult life problem to work through, or something that caused high anxiety–and what did I do? I went outside and thought through it, and even sometimes solved those problems. When you see parts of the natural world around you continuing to flourish in even the direst of conditions, you know that you can do it too.
For people who want to seize life but are held back by fear of failure, can you describe your favorite failure? What did it teach you? How did it strengthen you?
I attempted my first TransRockies 6-Day race back in 2017. I knew I'd be able to tackle back-to-back 20-mile days in the mountains, but I had no idea how the altitude would affect me, and I ended up with altitude sickness. Even though I was disappointed, I was still able to finish, and I still managed to have a great time. I went back the next year after training very differently. Each day was a fight, but my entire heart, body, and spirit were in it. It was the most difficult thing I'd ever done, but I finished. Sometimes it takes several tries to reach a goal that you have. And in those tries, you get stronger, you strategize differently, learn new things about yourself. You also get to see amazing views and experience the generosity of humanity too. Failures too, can be a win-win situation.
You once called nature "the antidote to reality." What do you mean by that?
Have you listened to or watched the news lately? Things are really tough right now in so many different ways. Our minds, hearts, and bodies are being stressed in a way that they never have. When you are outside, engaging in outdoor recreation–say going for a walk with sunlight in your eyes, running on your street, taking children to a local park, swimming in a lake or the ocean–it allows your brain to rest a bit. This, I believe has the potential to give us more energy, focus, and perspective particularly when we are dealing with the world and what our society throws at us daily.
When you encourage someone to begin outdoor recreation for the first time, what are your top three reasons why?
Your mind will be blown with the beauty of nature. Once you experience a sunrise or sunset out in nature, you will start thinking of other ways to get your "nature fix"-it's kind of addicting. Yeah!
I personally know the incredible benefits of stepping outdoors, and I want everyone to have access to that feeling of awe and wonder. We are all humans, we are of this earth, and therefore have the right to these experiences.
The relationships you build with others over shared hikes, sunrises, and sunsets, bundling up around your firepit, reaching a mountain summit or even just trying, swimming in a cold lake (or a warm one!), trudging through the snow or sliding down it, are unlike friendships anywhere else. Do it. I highly recommend it!
What's your favorite L.L.Bean Product?
The Ultralight 850 Hooded Down Jacket is hands down the absolute best piece that I own and use for EVERYTHING. It is the most perfect jacket I've ever had. It's warm, stylish, and available in a variety of colors!