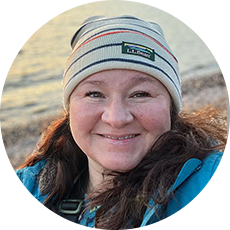 Melody Forsyth
She/Her/Hers
4 Min. Read | Ambassadors
Melody's message is simple. Everyone belongs outside. Put away the stereotypes about what an outdoorsy person might look like or the idea that you need to fit a certain mold. Whatever specific challenges or disabilities you or your family may face, Melody is proof there is a life outside for anyone who really wants it. That's why despite many obstacles, she's made getting out on the trails an integral part of her family's routine – including her youngest daughter Ruby, with Down Syndrome. Prepare to be inspired.
What has been your most significant life moment or favorite outdoor experience this year? 
We had the most amazing time visiting Biscayne National Park this year. We did a kayak tour through the mangrove trees. We had never seen an environment like it before and it was truly magical. If you could imagine just floating through the most amazing and unique trees all around you and seeing your family just float in front of you, with Ruby's little hands, gliding in the water. I took a mental picture and was very mindful of the entire experience. I noticed the smells, the light, the sounds that Ruby was making, and noticing the intricate way the trees were all linked together. We even saw a mama and baby manatee and it was just one of the coolest experiences we have had together. 
Would you like to share any significant life/career updates? 
I am studying to be a Psychiatric Mental Health Nurse Practitioner at the University of Utah. This is proving to be one of the most difficult tasks I have undertaken. However, it is so rewarding because I believe that mental health matters, especially the mental health of mothers and children, and hope to specialize in maternal mental health. I am also excited about some retreats that I have been creating for women in the outdoors and addressing their concerns about their own mental health. Not only have I felt the power of women together in the outdoors, but I love being a part of their own discovery and making their mental health a priority.
"The more we share stories (about those with disabilities) and share what they are doing in the outdoors, the more it demonstrates that a diagnosis doesn't have to limit you."
What is your best advice for someone who wants to live an active life in the outdoors?
You have to schedule time outdoors! When I put it on the calendar, it is more likely to happen. Scheduling time outdoors also makes it a priority and when I see it on the calendar, I don't schedule other things that could interfere with that time. I also have a go-to hike in my back pocket. It's close to home and although it's not the most scenic hike in the state, it allows me to get on the trail quickly when I only have an hour or two to be outside. I love it and it has become my special hike. I feel it is like an old friend because I know it so well and it is comforting to me. 
When faced with doubt or discouragement, how does time outdoors help you remain inspired and optimistic?
I always try to see the outdoors with "fresh eyes". Like it's new. Being mindful is helpful. It makes me slow down and pay more attention to my surroundings and pay attention to how I feel. I always feel better after being outdoors and try not to forget that my head is clearer, and I feel happier moving my body. 
You exude joy. What is your recipe for living out joy each day? What do you do when it runs low? 
I have learned a lot of tips to elevate my mood and I am lucky to have a generally positive outlook on life. I have found my purpose and figured out a lot of who I am and that has given me direction and helped me have joy every day. I have learned that sometimes I need to take a break. Self-compassion has been huge for me. I can have compassion on those days that I am low on joy, give myself time and come back refreshed and renewed and happy. Self-compassion has seriously changed my life.
You lead groups of women on outdoor adventures. Why was it important to you to start leading these trips, and what do you most hope they gain from these experiences?
I sometimes felt left out of other activities with women and felt sad that I wasn't included. I wasn't sure if it was because of my size or if people didn't like me. I didn't want other women to feel that way and finally decided to create the kind of space I wanted to be in. I wanted to create a space that was inclusive and fun. I thought "well maybe I will just create my own fun!" After my first retreat, I heard so many women say they had fun and enjoyed the retreat because it got them out of their comfort zone, and they were able to build their confidence. You could see it on their face. That was the moment that I realized I love gathering women together and providing a space for this to happen.
What kind of progress in accessibility have you seen for people with disabilities in the outdoors? 
I am seeing more people with disabilities being represented in social media and I am so glad they are sharing their stories. The more we share stories and share what they are doing in the outdoors, the more it demonstrates that a diagnosis doesn't have to limit you. 
What has Ruby been up to in her outdoor adventures?
Ruby is just exploring everything! She does not seem to be afraid of anything we have tried. As she is getting heavier to carry while we hike, we have been exploring other outdoor activities like biking, paddleboarding and rappelling. Ruby is loving it all. I am constantly amazed how she is not afraid when she is rappelling and just goes for it. She loves hanging from the rope. She also loves hanging on the paddleboard and does such a good job of sitting down and just enjoying the ride. It has been so fun to learn new outdoor skills alongside her!
What's your favorite L.L.Bean Product?
 Ok, the Vista Camp Pants are the bomb! I seriously love them so much! They have pants, capris, and even skorts! It is my wardrobe staple for all seasons. My husband and boys love the Mountain Classic Hiking Boots.