Employee Story: Eight Decades (and Counting) Outdoors
Meet Forrest Mayo, L.L.Bean Outdoor Discovery Programs' most experienced instructor.
Six-year-old Forrest Mayo didn't have a TV in his home. Very few did in 1940. The only screen he knew was the one on the front door of his home, which provided a cool breeze during those muggy Philadelphia summers. What Forrest did have was a few dollars he had saved up from the odd chore here and there, his heart set on buying a fishing rod he had seen in a store window. "I didn't even think about why I wanted to fish, but ever since then, I've been in love with the outdoors."
It wasn't something a child from Philly often gravitated towards. Especially a Black child born in 1934. "As a person of color, I did run across a lot of obstacles. But if you really want to do something, you keep going, you keep trying. Especially if you love it as much as I do," Forrest recalled. In any event, the Brandywine Creek was calling his name. Even at that young age, the outdoors was a place where he could escape, find peace, relax. From that moment on, Forrest was hooked.
When he was 21 years old, Forrest decided he wanted to learn how to swim. He took classes at the local YMCA, and soon found that being on the water felt like home. Three years later, he was teaching at the same pool where he himself learned to swim. And shortly after, he picked up a paddle for the first time. It was heaven.
"Paddling can be so relaxing, so calming. You can block out any distractions you have in life when you're in the zone."
Years later, Forrest joined a Philadelphia-area canoe club, where he was again bit by the teaching bug. He soon began guiding new members, but even among his peers, prejudice would sometimes rear its ugly head. Forrest knew that in the fight for equity in the outdoors, he had to be undeterred. "People would show up to the club I belong to, take one look at me, and say, 'What? You're my instructor?' They wouldn't come back."
"It's their loss," he added.
One day, the director of the canoe club came to Forrest with a job listing from L.L.Bean. Outdoor DIscovery Programs was seeking experienced paddling guides. So, at 83 years young, Forrest again became an instructor, this time at the John Heinz National Wildlife Refuge – a natural oasis situated right within Philadelphia's city limits, carved out by a tributary of the Delaware River.
At Heinz, Forrest gets to work with a lot of city youth, many who have come to the refuge through its partnership with L.L.Bean. And when they do, he hopes that maybe they'll find their fishing pole in the store window: the thing that changes the trajectory of their lives – or at least inspires them to seek out more opportunities in the outdoors.
"That's why I'm at Heinz. When kids see someone who looks like them in the outdoors, doing something they never thought they could do, it's the greatest motivator."
"If I'm here, you can do it too."
"Unfortunately, there are not enough Black participants in the outdoors," Forrest continued. "They're not brought up around it and they're just not out there. Older guys who grew up in the south and places like that, they grew up in the outdoors. But up here, it's something you have to really crave and love. I could just go out to the woods and sit there for hours, watching nature take place. Sometimes that's all you need."
Most importantly for Forrest, he's teaching, which is something he loves. And he's teaching what he loves. Those moments when his students feel that spark of joy, that sense of accomplishment, make it all worthwhile. One memory in particular stands out:
"A young lady was paddling and was saying, 'I can't get this, I can't get this, I can't get this.'
"I tell her, 'There's no such word as can't. I will only accept 'not able to at the present time.' Before the day is over, you'll see it.
"So, we're halfway back and I hear somebody scream, 'Yes!' When I heard that, I knew she got it. That's what I'm talking about. When I can get a student to feel what I'm trying to teach them, that's it."
Forrest has gained a lot of knowledge during his eight decades in the outdoors, but there are a couple of things he knows for sure. One, it's always the simplest moments that have the biggest impact. And two, he's not hanging up his paddle any time soon.
"I have a lot more to give and I'll keep giving it until He says, 'enough.' I'm not quitting if I can help it."
Want to have your moment in the outdoors, guided by experts like Forrest? Outdoor Discovery Programs has courses, trips, and tours for everyone. Browse our programs and sign up today.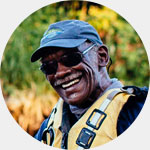 Forrest Mayo is a Philadelphia-area paddling instructor with L.L.Bean Outdoor Discovery Programs. When he's not out in his kayak, you can find him wildlife watching in the woods near his home, as well as hunting, fishing, and SCUBA diving.