Partner Story: LGBTQ+ in the Outdoors
As the founder of OUT There Adventures, Elyse Rylander (she/her/hers), has been helping members of the LGBTQ+ community experience the peace and joy of the outdoors for 15 years. We chatted with her about how growing up outside shaped her life's path.
Courtesy of OUT There Adventures
Tell us about yourself
I am the oldest of two daughters of a teacher and a carpenter. I'd describe our tax bracket as lower middle class, which meant we spent a lot of time taking regional vacations as opposed to weeks at summer camp. With my mom having summers off, her, my sister and I spent endless weeks catching frogs, swimming, and running through the north woods of Wisconsin. As I moved through my adolescence, kayaking, canoeing, camping, and skiing became not just a fun pastime but a way to find some confidence and value in being "different" than my peers. In high school I embraced this idea even more to circumvent being an "other."
At 16, I started teaching youth canoeing, kayaking and standup paddleboarding classes. My experience as an outdoor guide had a profound impact on me, especially before I came out. While I was a paddling instructor there were a number of out Queer women on staff. Getting to know these badass women critically shifted my sense of self and what I dreamed might be possible for me as a Queer person. So at its core, I created OUT There Adventures to recreate my own experience, but with the aim of making those opportunities more easily available to any Queer kiddo interested in getting out there.
What are some common obstacles the LGBTQ+ community face outdoors?
The experiences LGBTQ+ folks have outside (and in) really depends on how they are read. For those that can "pass" or are read by others in a way that conforms to our cultural expectations around gender identity and expression, there can be a duality of stress at the intersection of being "found out" and not being seen authentically. For folks who do not pass, and I would put myself in this category, the stress of how others will react to you is also omnipresent. Over the years I have been asked thousands of times, "But the trees don't care who you are, so why does this matter?" My response has always been that of course the trees don't care – that is why time outside is so powerful. Unfortunately, you never know who you are going to encounter on the trail or at that rural gas station, and that's the conversation we really need to have. The truth of the matter is, it isn't safe to be Queer, BIPOC and/or a woman in many spaces.
Why is forming a bond with the outdoors so important?
For a group of people that are told implicitly and explicitly that they are "unnatural," being surrounded by a group of others like yourself in a medium that we prize for its variety can be one of the most pivotal moments in identity development. Our unofficial slogan at OTA is "Because there's nothing straight about nature." Unlike urban spaces that are designed to be maximally efficient and hem us in to a particular lane or box, we turn to the outdoors to provide the opposite. For a group of people to be able to physically connect to a place where you can't even walk in a straight line because the trail twists and turns? That's a profound experience. Not to mention all the Queer relationships we see in flora and fauna everywhere! From what I've witnessed over the last 10 years, it is perhaps the most perfect place for Queer folks to be able connect with themselves, others, and their place in the larger human experience.
In addition, for younger people being able to be in Queer-centered groups with adults who look like them is an opportunity you can't really replicate anywhere else. For Queer kids, the freedom they experience during this time is perhaps unparalleled. When it's just you and 11 other people who care about you and understand you, AND you're seeing parts of yourself reflected at you in the trees, mountains, water and more – gosh! What could be better?!
Courtesy of OUT There Adventures & Northwest Outward Bound School
Can you think of a specific moment outdoors where you were affected in a memorable way?
It was our first OTA trip in the summer of 2015. Without even really thinking about it, we wound up on a sea kayaking course in the San Juan Islands the same week the Supreme Court handed down its ruling on gay marriage. My phone was blowing up with messages from friends and family, and while it was moment of happiness for sure, it was also a great reminder of the work that still needed to be done.
On that course, our participants were all Trans. For them, while this was a helpful cultural win, it did not equate to solving the many remaining problems that impacted their lives. This solidified something in my mind – not just the critical importance of the opportunity for our Queer kids to get outside and away from all the crap, but also how important it is that we keep fighting until they are afforded access to a full and dignified life in a way that is defined by them.
What's the best part of helping members of the LGBTQ+ community?
The reciprocity of the relationships. The last night before the end of a course, we do an activity called the affirmation circle, and it always moves me to tears to be able to hear from each participant what they love and appreciate about each other after spending two or more weeks together. It's such a critical reminder that we have a community that supports us for being us.
Who inspired you to be such a strong leader in the LGBTQ+ community?
My mother spent 30 years as a special education teacher, so service to others has always been a part of my life. She never approached her work through a savior lens; perhaps that has been the biggest influence. Because my goal is not to say, "just do it like me and you'll be fine!" Instead I say, "here are some of the things that I've found useful, but let's talk about what makes the most sense for you."
What's the most important message you'd like to share with young people in the LGBTQ+ community?
It's tough out there, especially now. However, there is an amazing world waiting to welcome you and a rich and beautiful history you are connected to. We need you around for the long haul, so don't hesitate to seek support and ask for what you need. And don't be afraid to get OUT there!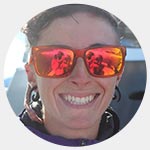 Elyse Rylander (she/her/hers) has taken thousands of youth and adults on outdoor adventures all over North America and worked tirelessly over the years to reduce barriers to the outdoors for all members of the LGBTQ+ community.