Partner Story: Life-Changing Experiences at a Little-Known National Park
Despite growing up in the same town as Canaveral National Seashore in New Smyrna, Florida, Avia "Michell" Woulard didn't have access to it because of the color of her skin. Now, in her 15th year working there as an Interpretive Ranger, she's the one welcoming people in. We sat down with her to talk about park access, sea turtles and her relationship with the park she loves.
Can you tell us a little about Canaveral National Seashore?
Canaveral National Seashore contains nearly 58,000 acres of barrier island, open lagoon, coastal hammock, pine flatwoods, and offshore waters. With 24 miles of pristine beach, it's prime habitat for many threatened and endangered species and it provides nesting beaches for several thousand protected marine turtles.
Two-thirds of the park is in Mosquito Lagoon. The lagoon is designated an estuary of national significance and an outstanding Florida waterway. It's one of the most diverse and productive estuaries in North America. The National Seashore also contains cultural resources that reflect human history in the Florida peninsula from 2000 BC to early 20th century Florida settlement. 
"We want visitors to connect to the national park emotionally. We want them to see themselves in the stories that are here."
NPS Photo/Avia "Michell" Woulard
What is an Interpretive Ranger and what do you enjoy about your position?
As Interpretive Rangers, we want visitors to connect to the national park emotionally. We want them to see themselves in the stories that are here. We do research to find information that we think the public would be interested in or would enjoy once they come to the park.
During my interpretive presentations, I'm able to surprise my audience with facts about endangered species within our beach. I also get to watch their reactions the first time they experience the nesting of a turtle during one of our annual Turtle Watch programs.  
You experienced segregation growing up, and now you find yourself in a position of authority as an Interpretive Ranger. How does it feel to see that and to be in that position?
I think it's a microcosm of society today, especially within the National Park Service. We want to include everybody. When you see rangers of diverse backgrounds, something different, people see somebody that looks like them. Then they feel like, "Wow, I can do that too." It was the same thing when I was in the military. When you think about where we've come from and where we're going, we still have a long way to go. But we've made progress so that people can see themselves doing these jobs.
You mentioned the Turtle Watch Program earlier. Can you tell us a little about what that is?
It's life-changing! To have the opportunity to watch a creature that has been here for thousands of years come up, lay her eggs, cover her nest and then turn around to go back to the ocean. To think that they know to come back to where they were born. The females come back to lay their eggs and we give visitors an interpretive talk about the turtles. Getting the opportunity to see it, it really is mind-blowing.
The program starts at 8:00 PM and may go as late as midnight. Once we're on the beach we're on turtle time! It goes as fast as she does or as slow as she does. While we're on the beach waiting, we may give a talk about the stars. We use the Turtle Watch two-fold. We find different things to keep visitors amused while we're waiting and observing. Once we've escorted her back to the ocean, we go back up with a screen and cover her egg chamber to help protect it from predators. And the screen has little holes in it for hatchlings to crawl out of.
Apart from the Turtle Watch, what else makes Canaveral National Seashore a special place?
We have 15 endangered species at Canaveral and a variety of resources. We provide people with the opportunity to kayak, canoe, or paddleboard. We have canoe trips that we lead for them as well. There's a pontoon boat where licensed captains take visitors on a little tour and the interpreters or volunteers interpret what you see. That's what makes Canaveral special and unique. There aren't too many places you can see the ocean on one side and a lagoon on the other.
Do you have any programs focused on accessibility?
Yes, we do! We have a lot of different programs people can choose from. There are two beach wheelchairs visitors can rent. And as we do interpretation, we're giving descriptions for people that might have problems with their sight. We also have audio tours to listen to. As visitors walk up to Turtle Mound and wonder what something is, they can push a button and we give them a little minute, minute and a half spiel about the mound itself while they take in the view from the top. The same thing with the ocean, the Eldora House and everywhere people can go. The National Park Service created its own app too. You can go into the National Park app and get the same information as the audio tour.
Canaveral is fairly close to Orlando. Do you have people who decide to visit as part of a bigger trip?
Definitely. I have a unique perspective because I deal with people in the visitor center. They come in and say, "We did something fun yesterday for the kids. Now I want them to learn something. I want them to be outside." We use that as an opportunity. And some people say they just didn't want to do any of the amusement parks.
Another thing that's unusual, and maybe it's because we're not one of the major names, but most of the locals aren't aware that the national park is right there. It's family and friends that have done their due diligence prior to their trip here that find the park. They bring the locals here and they say, "Wow, I didn't even know this was here. And I love this." You would be surprised how many people say they didn't know we were there. And I tell them this is our little hidden secret. But we're not really hidden. Once they know, they fall in love with it.
"Take a breath. Go out there to the ocean, watch the waves. Come see a sunset or a sunrise. Just be present."
You've mentioned how a lot of people arrive at Canaveral through friends and family. Are there other ways to raise awareness about some of these smaller, lesser-known parks?
We're doing a lot more outreach programs and we're using social media a lot more because of Covid-19. Covid forced us to think outside the box. It gave us an opportunity to do more outreach programs. I read to first graders in Connecticut because of Zoom. Setting this stuff up, we're able to bring people to the parks through all the different channels.
And as an organization, we're really taking advantage of what we've learned through Covid and the different ways to meet people where they are. Because I know young people. If we don't catch their eye right away, then they're not going to think about coming to Canaveral. So we're learning different ways to get their attention. Something just to grab their attention so they will at least go in and find out what the park is about.
Is there anything else about Canaveral or the national parks you'd like to share?
Every park is very unique, and they're each going to bring you a unique perspective. We're a seashore. If you go to another seashore, it's not going to be the exact same. You're going to see something different and specific to that park. So take your time. Enjoy it. Sometimes people are in such a rush they don't enjoy or really become a part of what they're doing. They don't even have time to look around.
And with ours, take a breath. Go out there to the ocean, watch the waves. Come see a sunset or a sunrise. Just be present. That's the one thing that we'd like for people to do, no matter what park you go to. Take the time. It's your park.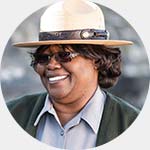 Avia "Michell" Woulard grew up in New Smyrna Beach, Florida, where she currently works as an Interpretive Ranger at Canaveral National Seashore. She's also a retired Navy veteran with 20 years of service.