Isaiah Scott: Birding Tips, Advice and Reflections
Ornithologist, guide and L.L.Bean partner.
Once you've learned the basics of birding and want to take your skills to the next level, where do you turn? A guide can help you get more out of your birding excursions, so we turned to L.L.Bean partner Isaiah "Ike" Scott.
Isaiah started his eco-tour business Ike's Birding Hikes when he was just 15 years old, and has spent the last few years helping people discover the pleasures of birding. We asked him how he got started, and what advice he has for people exploring the world of birding.
How did you get into birding?
Isaiah: I first got into Birding when I visited the Cornell lab of Ornithology in upstate New York. The phenomenal facility dedicated to bird conservation with a nature preserve with beautiful wetlands and forest called Sapsucker Woods. This place showed me the beauty and diversity of birds and inspired me to birdwatch.
What are the biggest challenges to your pursuits of birding and photography?
Isaiah: A big challenge for me was to have my voice heard as a young Black birder. Coming into this field, I knew there was a lack of diversity and very few people that looked like me. I felt alone and unrepresented. But when I continued bird photography and connected with more people through social media, I discovered other Black/POC in this field. Also, #blackbirdersweek on Instagram shed light on many Black birders, and allowed me to be heard and represented. I want to make sure no one feels the way I did coming into birdwatching and nature photography.
What are things you love to do outdoors that you haven't been able to experience since the pandemic began? What do you look forward to doing most again?
Isaiah: One thing I wasn't able to do was to host an Ike's Birding Hike. It's been a while since my last hike and I hope to continue doing it more in the future once the pandemic is over and continue to connect people to nature.
What outdoor moments make you feel most at peace? Why do you think that is?
Isaiah: Outdoor moments when I'm most at peace is being near the the ocean or a body of water whether at the beach, marsh, lake, or river. I love the water, it is very tranquil for me. It's a symbol of life, rebirth, and purity.
How do you find new places to go birding?
Isaiah: I find new places to bird by using eBird, an app that allows you to view bird hotspots in your area and around the world. I also use the internet to search for nature preserves and birding spots.
What clothing or equipment do you always bring with you?
Isaiah:
I always bring a comfortable pair of shoes, whether it's my boat shoes in the warmer weather, or my duck boots in the cooler weather. For equipment, I always bring my binoculars to view birds from a distance and my camera to take photos.
My L.L.Bean favorite is the Indigo Tartan Hooded Pullover. It's light, comfortable, and can be worn year round!
What birding photography tips do you have for people just getting started?
Isaiah: Have patience when shooting out in the field. Sometimes you have to wait for the bird to get in the right position to get the perfect shot.
Do you need to see a specific bird to have a good time birding?
Isaiah: I don't really need to see a specific bird to have a good time birding. Though it would be nice if I were to see some of my favorite birds like the Painted bunting, Swallow-tailed kite, and Bobolink, I'd still have a good time birding if I saw a lot of other cool species.
What advice do you have for somebody who wants to get started birding?
Isaiah: Go outside, find some birds, and have fun!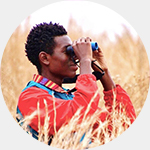 Isaiah Scott is an artist, ornithologist, conservationist, photographer and the owner of Ike's Birding Hikes. Follow along with his latest adventures and incredible bird photography on Instagram.