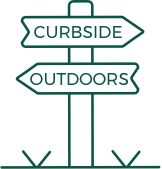 We Offer Free, Contactless Curbside Pickup
We'll bring the outdoors out to you! Just swing by the store, pop your trunk, and we'll drop your order off in your car.
This service is available at select retail locations.
Please check your local store page for details.
1. Buy Items Online for In-Store Pickup
Simply choose the "Pick Up In Store" option when shopping online or call our Customer Service team at 800-441-5713. You can purchase items at any time and pick up during your local store's regular operating hours.
2. Look for Your Confirmation
We'll send an email with instructions for pickup when your order is ready. Just drive up, follow the directions on the signs, and we'll come right out with your order!
3. Wait as We Load You Up
There's no need to get out of your car! Just show us your "Ready for Pickup" email, unlock your trunk or back door, and you'll be on your way with your L.L.Bean purchase.
Frequently Asked Questions
How does curbside pickup work?
Once you order your items, you'll receive a series of emails: a first indicating that your order has been received, a second confirming your order, and a third letting you know that your order is ready for pickup. Specific curbside pickup procedures could vary by location; contact your local store for details.
What do I need to bring to complete my pick up?
You will need your "Ready for Pickup" email available on your mobile device or printed, and cell phone to call us when you arrive.
Where should I go to pick up my order?
There will be signs directing you to the designated curbside pickup area once you arrive at the store.
What do I do once I arrive to pick up my items?
There will be numbered parking spots, with a posted phone number and extension to call.
I'm looking for an item, but I can't find it online. What can I do?
Visit our Customer Service Page or give our Customer Service Reps a call at 800-441-5713 and they will be happy to assist you.
Do I need to wait in my car, or can I wait outside the store for my order?
We ask that you please stay in your car at all times during the pickup process, unless otherwise directed by the posted signage.
What if I change my mind about my order?
If picking up your item in store, you may cancel your order any time online. Simply click the "Order Details" link in your "Order Confirmation" or "Ready for Pickup" email and follow the directions to cancel your purchase. You can also call our Customer Service team at 800-441-5713 to cancel over the phone.
Can someone else pick up my curbside order?
Yes. Simply forward the "Ready for Pickup" email to whoever is picking it up for you.
How long will you hold my items?
We will hold items for up to seven days after your order was originally placed.