Skip to main content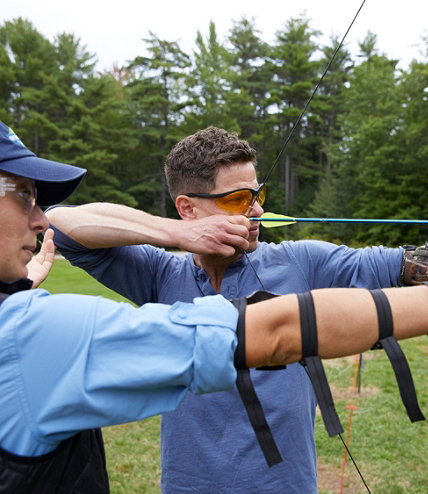 Weather and activity-appropriate clothing (preferably synthetic*)
Activity-appropriate closed-toed shoes
Personal prescriptions such as EpiPen or inhaler
One quart of water (no glass bottles)
Optional
Sunglasses
Hat
Camera
Personal eye protection
What We Provide
Eye protection
Sunscreen
Insect repellent
Use of all necessary archery equipment: recurve bows, arrows, quivers, etc.
Build off basic archery skills with tips and techniques to help improve your aiming and targeting.
Prerequisite: Discovery Archery
Activity level: Moderate
Minimum age: 12 (17 and under with parent or guardian)
Questions? Please call 1-888-615-9979
Improving Bow Accuracy
Join friendly, NFAA-certified instructors at our outdoor archery course for a hands-on training session on how to properly zero in from various distances, take better shots and significantly improve your bow accuracy. You?ll learn everything you need to know about how to shoot more accurately from 10, 20 and 30 yards away using a recurve bow, with and without sights. Plus, you?ll receive plenty of target time to practice these new techniques with expert guidance from your instructors. This course is perfect for anyone with previous archery experience who wants to improve their shooting skills.