Skip to main content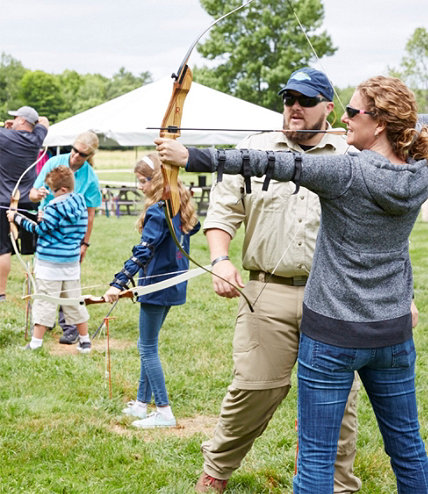 Weather and activity-appropriate clothing (preferably synthetic*)
Activity-appropriate closed-toed shoes
Personal prescriptions such as EpiPen or inhaler
One quart of water (no glass bottles)
Optional
Sunglasses
Hat
Camera
Personal eye protection
What We Provide
Eye protection
Sunscreen
Insect repellent
Use of all necessary archery equipment: recurve bows, arrows, quivers, etc.
Learn the skills and knowledge you need to enjoy archery in your own backyard.
Introduction to Recurve Archery
Join our archery experts for a comprehensive course that covers everything from the most basic fundamentals to more advanced targeting tips and techniques with a recurve bow. You?ll leave with the information, skills and everything else you need to confidently and safely enjoy this exciting sport on your own. Your instructor(s) will go through all the essentials including safety, proper stringing and unstringing a bow, bow selection and maintenance, discussion of types of archery, target types, arrow types and other applications. Once on the range, our skilled archers can show you techniques and tricks to achieving the correct body mechanics, bow dynamics and adjusting sights. They?ll work with you on drills that will help improve your form and overall accuracy. This course is perfect for beginners or anyone who wants to take their archery skills to the next level.