Skip to main content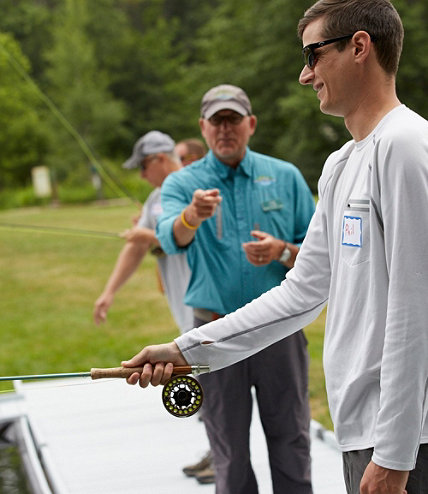 Weather-appropriate clothing (preferably synthetic*)
Activity appropriate, closed-toed shoes
Sunglasses (polarized recommended)
Hat with visor
Personal prescriptions such as EpiPen or inhaler
Optional
One-quart water bottle or hydration system
Camera
Non-heirloom rods, reels and lines?
What We Provide
Use of all necessary fly-casting equipment: rods, reels, lines, etc.
First-aid kit
Eye protection
Water
Sunscreen
Insect repellent
Join us for a fun and informative four-hour casting course. It's a great way to learn the skills to catch fish with a fly.
Intro to Fly-Casting at L.L.Bean's Private Pools
This comprehensive four-hour introductory course will teach you the basics of fly casting in a fun and relaxed atmosphere. Our expert instructors will guide you step-by-step through the four-part cast, false cast and roll cast. We'll explain how to strip and shoot line, as well as how to tie basic fishing knots. You'll receive plenty of one-on-one instruction and have ample time to practice each skill with an instructor and on your own.
All necessary fly-casting equipment is provided. Please note this course does not include fishing time on the water.
L.L.Bean does not usually cancel events due to inclement weather. However, we reserve the right to cancel an event at any time due to severe weather, low enrollment or other concerns. If L.L.Bean cancels your event, you will receive a full refund for the cost of your reservation.