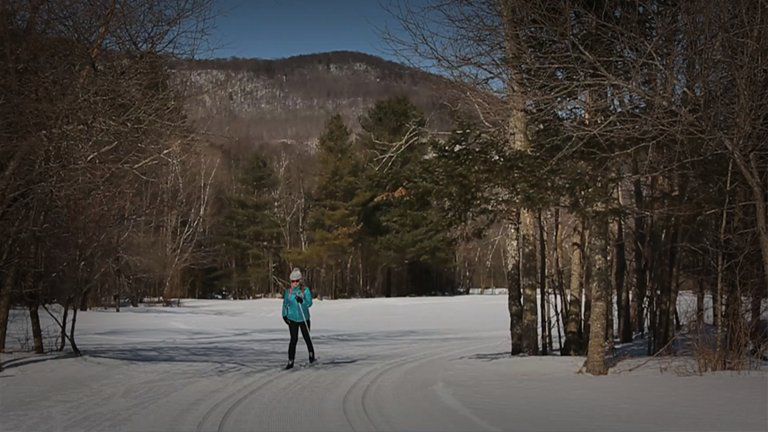 Scot B., L.L.Bean Product Development: Cross-country skiing is a great way to have fun in the outdoors and enjoy the beauty of a landscape covered in snow. We want to make it easy and fun – which is why we're proud to offer the Discovery Ski Set, the best-value introductory ski package you'll find and a great way to get started on your winter adventures.
Paul Clark, Rosignol North America: We outfit these skis with a Positrack waxless base, the best no-wax base on the market. The base is low maintenance and provides the perfect balance of traction and glide. The fiberglass cap and wood core are light, strong and durable.
The skis are shorter and wider than what you typically find in cross-country skis, offering optimum stability and excellent maneuverability. Because of their width, they float particularly well, and they'll perform both in and out of track. You'll get the same easy, great performance whether you're on groomed trails at a touring center or breaking fresh snow on your local golf course or in your own backyard.
The X2 Boot, included, is a high-quality boot that you wouldn't normally find in a set this inexpensive. The boot has a rigid sole, warm insulation and a stable ankle support.
The poles in this package are made out of 7000-series aluminum, which is both lightweight and strong. The synthetic cork grip and adjustable strap make them comfortable to hold.
Scot B.: The Discovery Set also includes a free Nordic Ski Pass for three days of free skiing at dozens of participating Cross-Country Ski Areas Association touring centers. As always, L.L.Bean ships this package for free – no minimum order, no end date.