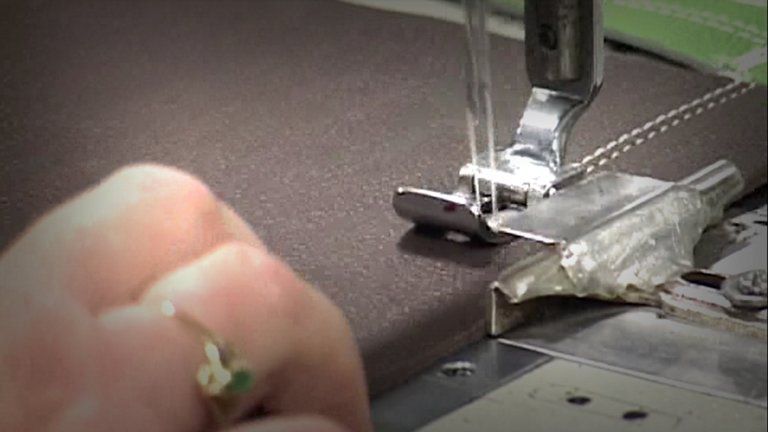 A decorative outline is sewn on most L.L.Bean Boots. These double-line stitches are sewn on the top of the boot quarters. This video demonstrates how to sew the decorative stitch using the double needle outline machine.
First, stage your work, right side up. Before you start stitching, check the boot top to make sure the top edge is even. If the top is uneven, as shown here, it should not be stitched.
Turn on the machine and lift the presser foot, leaving the needles down. Place the boot top up against the guide. Keeping it against the guide, slide it up to the needles. Now, lower the presser foot and begin sewing the decorative stitch. To make sure the decorative stitch is straight, you need to keep the leather against the guide.
Stitch to the end and stop. Cut the leather scrap off and set it aside. Without removing the sewn piece, check the stiches to make sure the machine is sewing correctly.
Now lift the presser foot, and slide the second boot top up to the first piece. Keep it against the guide. As you stitch to the zigzag seam, you'll notice the leather curves away from the guide. You need to keep it against the guide. Now stitch to the end and stop.
Place the next boot top under the presser foot, next to the previous piece. Make sure it is against the guide. The leather must stay against the guide for the decorative stitch to be straight. If you apply too much pressure, as shown on this practice piece, the leather will roll. Pushing too hard against the guide, or not enough, will both cause crooked stitching. As you sew the boot tops, leave them chain stitched together, and they'll slide into the catch bin.
When you stitch off of the last boot top, sew onto a scrap of leather. This keeps the needle from coming unthreaded and keeps the thread tension consistent.
Now, cut the last piece off. Then, one by one, pull the pieces out of the bin and cut them apart. Remember to turn the machine off when you are finished.