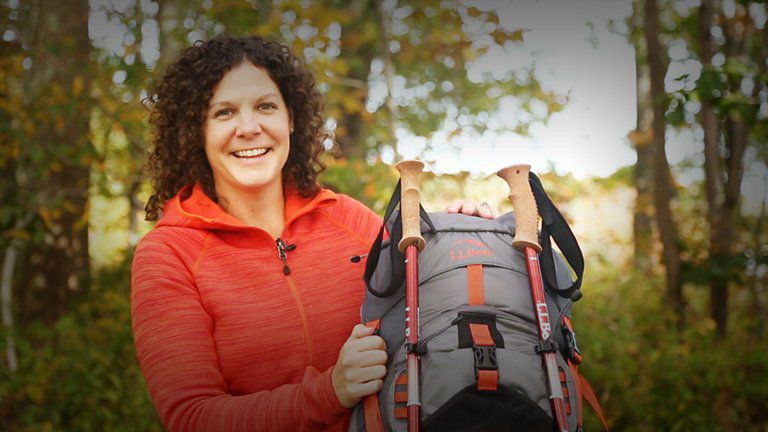 Melissa M., L.L.Bean Product Development: This is the AT 55 Pack, which is our ultralight pack built for the light and fast customer.
The AT 55 Pack features shoulder straps and a waist belt made from a high-density perforated air foam, which offers great breathability on-trail – and a comfortable carry.
The updated hood on the AT 55 Pack offers a two-point secure compression system, which allows the hood to grow with the spindrift collar but be cinched down tightly against the pack. The side compression straps on this pack provide top-to-bottom compression of the load.
The AT 55 Pack has traditional hydration pockets on the side that will accommodate up to a 32 oz. water bottle. Additionally, the pack features an internal bladder sleeve with an exit port on the side.
One significant update to the AT 55 Pack is the external access to the body of the pack. In this particular case you can access your rain shell and your rain pants while you're on the trail.
We have packed the AT 55 Pack today with all the necessary gear for a weekend out on the trail. We'll unpack it to demonstrate all of the items that you can fit into this fast and light pack: a Microlight FS 1-Person Tent; a Hikelite Sleeping Pad; the Ultralight Sleeping Bag, 35°; a backpacking stove, fuel canister and cookware set; camp lighting; toiletry items; food; a medical kit in case of emergencies; a camera and waterproof trail clothing and insulation to protect against inclement weather.
All of these items were packed in the Women's version of our AT 55 Pack; it also comes in a Men's Medium and Men's Large.