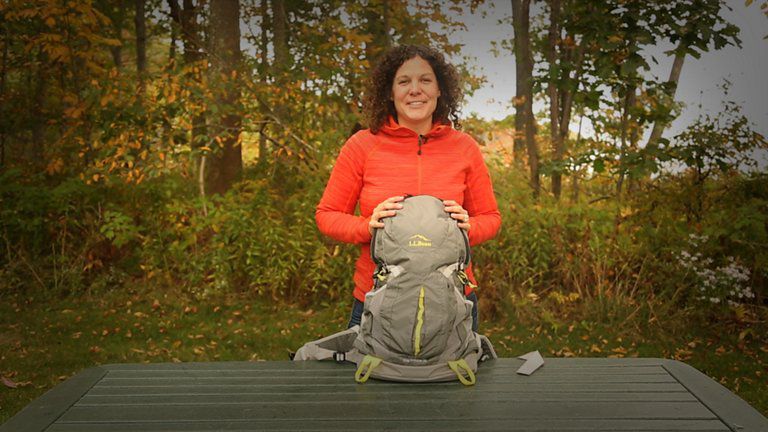 Melissa M., L.L.Bean Product Development: This is the new Day Trekker 25 Pack, redesigned for 2014.
The updated Day Trekker 25 Pack includes the Boa compression system. This has allowed us to remove the compression straps on the side of the pack, which allows for full on-trail access to the body of the pack. The Boa compression system provides really great top-to-bottom compression, and pulls the load entirely into the back for a very comfortable carry.
Updated features on the Day Trekker 25 Pack include an added frame sheet. The previous version of the Day Trekker 25 Pack had a foam back panel for suspension; this pack has added an internal frame sheet in addition to the foam in order to provide a very comfortable carry on the trail.
We have added a perforated air mesh to the waist and shoulder straps to increase breathability and comfort.
This pack has some organizational features as well that are very useful on the trail. It has a hideaway daisy chain on the front for clipping on items, as well as a hideaway organizational pocket for those small goodies that you want to take with you. The pack features a shove-it pocket on the front, which is great for on-trail access to something such as a shell.
The external front pocket on the top of the pack offers a great deal of volume to put an insulated layer or any items that you want to get to quickly.
To demonstrate how much the Day Trekker 25 Pack actually will carry on-trail, we have packed it today, and we'll take out the contents to show you what fits inside: an insulated layer; a Gore-Tex shell and rain pants; a bladder, which fits inside the hydration sleeve on the inside of the pack; cell phone and camera; trail food; lighting and a first aid kit.
The pack that we used today for demonstration was a Medium-Large size; the pack also comes in a Small-Medium size for smaller torso frames.