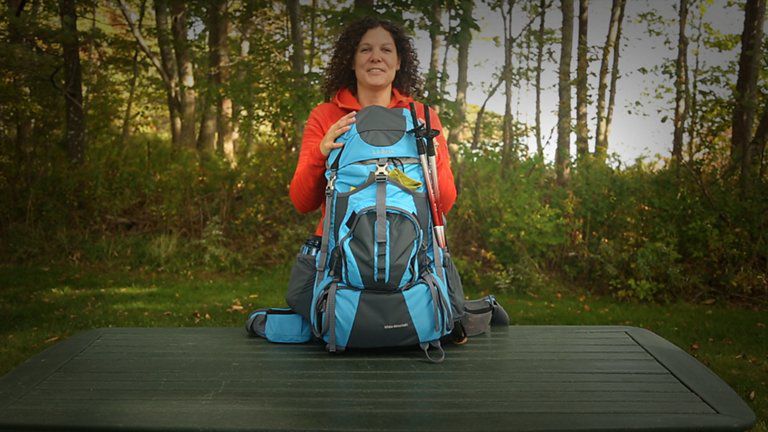 Melissa M., L.L.Bean Product Development: This is the new White Mountain Pack by L.L.Bean. This pack has all the same great features as previous versions, but we've updated it and reduced the weight by half a pound.
The White Mountain Pack features an internal frame sheet that allows the weight of the pack to be transferred to the hip belts for a very comfortable carry. We've updated the pack this year with a ladder-lock adjustment system for the shoulder straps, which allows the user to customize the fit on-trail.
The front organizer pocket is built with mesh pockets for all of your small items that you'd like to access on-trail. The White Mountain Pack features a shove-it pocket with an adjustment clip that allows you on-trail access to your necessary gear, such as a shell.
The external water bottle pockets are made to accommodate a full 32 oz. water bottle. Behind the water bottle pocket is a pass-through for your hiking poles.
The adjustable top hood grows with the spindrift collar and your gear.
The sleeping bag pocket offers customized options for packing the inside of your pack. With an adjustment on the inside of the body of the pack, you can either combine your compartment or leave it as two.
The external hip belt pockets give on-trail access to those small goodies that you may need while you're hiking.
We've designed this pack to hold all of the items that you would need for a weekend out on the trail. We've packed it today to give you a sense of what it will actually carry.
We have our L.L.Bean Adventure Sleeping Bag; the L.L.Bean Hikelite Sleeping Pad; the Microlight FS 2-Person Tent; food and a camp cook set, including a coffee press and spice kit; a water bottle; a headlamp and Stowaway Collapsible Lantern; a camp stove and fuel; a medical kit in case of emergencies; a multitool; some trail snacks and a Gore-Tex shell, insulated layer and Gore-Tex rain pants.
All of these items that we've discussed today fit into the Women's version of the White Mountain Pack. We also offer the White Mountain Pack in a Men's size Medium and Men's size Large, which will give you even more space to pack more goodies for your trip.