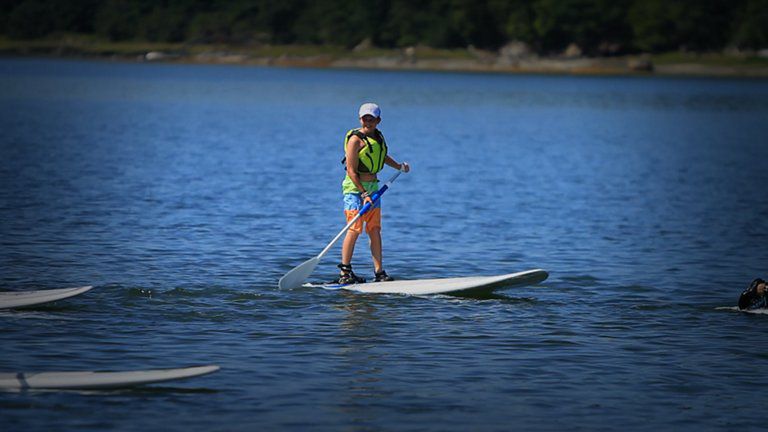 Ryan Jaret, Kids' Camp Supervisor: I think the goal of L.L.Bean Kids' Camp is to really help kids become more comfortable and confident in the outdoors. We offer a variety of activities in the outdoors – such as stand-up paddleboarding, kayaking, archery, geocacheing and fly-casting – and we provide them with these skills in a safe and fun environment to help them be more comfortable when they go outside, and feel like, "Hey, I can do this".
I think one of the things that makes L.L.Bean Kids' Camp unique is that we have counselors who work with each group for the entire week, and they follow the group through all of the activities that they do here at camp. Then we also have L.L.Bean certified guides and instructors who not only teach here at Kids' Camp, but teach the adult programs and a variety of the programs here. They're highly-qualified, highly-trained instructors that are working with the kids, as well as the camp counselors.
We offer a "Challenge by Choice" philosophy; we want to see kids try new things and we hope that they will come away feeling like they did some things that they didn't think that they could do before, and learned some skills that will help them when they move forward – and as they get older, to continue that love of the outdoors. We're hoping to "start a fire," in a sense, to foster a love of the outdoors and a passion for being outside.
Sign up online at llbean.com/adventure, or call 1-888-270-2326