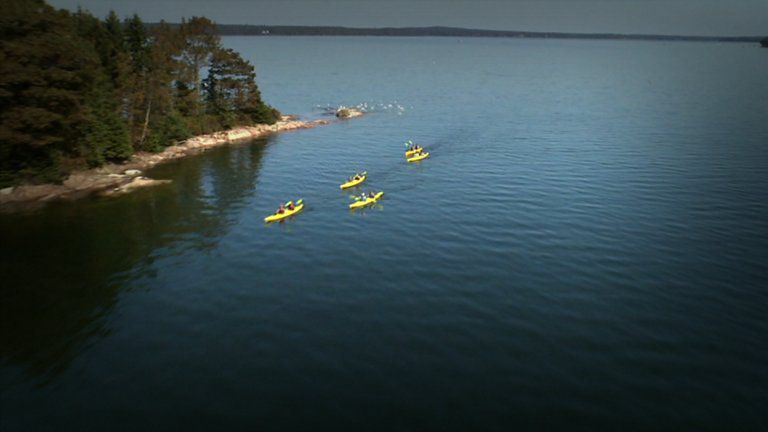 Many stores will sell you a kayak, paddleboard, bike or bow, but here at L.L.Bean we'll also teach you how to use it. We're always looking for new ways to help people have fun outdoors – that's why we created Outdoor Discovery Schools.
Each year, we guide thousands of people on new adventures in carefully selected locations in New England and the Mid-Atlantic. You'll find Outdoor Discovery School programs offered at all our retails stores, and our instructional courses, overnight trips and day tours are led by friendly, expert instructors. But don't just take our word for it. Here's what our customers say:
"My husband and I have been considering kayaking as a new way to get us out and on the water, both for exercise and for photographic opportunities. We looked to L.L.Bean for a chance to 'try it out.' We had an amazing time! The instructors were very knowledgeable, extremely helpful, and above all friendly and easy to talk to. They made our experience so perfect."-LaDonna P.
"Our instructors were fantastic and really met every student where he or she was. They made me very comfortable and safe. Thanks L.L.Bean!" -Ame M.
"Wow! We both learned LOTS! Our instructor John was exactly what both of us needed, giving us some great tips. He brought humor to all aspects of our course and made us enjoy our time on the range. He stressed safety at all times. Thanks John and the rest of the staff!" -William D.
Our new online calendar makes it easy to browse and book a class. You have the option to search by date, location, event type, skill level and price. We have paddling, fly fishing, archery, sporting clays, biking, weekend get-a-ways, wilderness first-aid and more. You can also sign up for instructor certification courses, private lessons or build your own custom adventure. And, our new youth camps are full of adventures your child or teen is sure to remember.