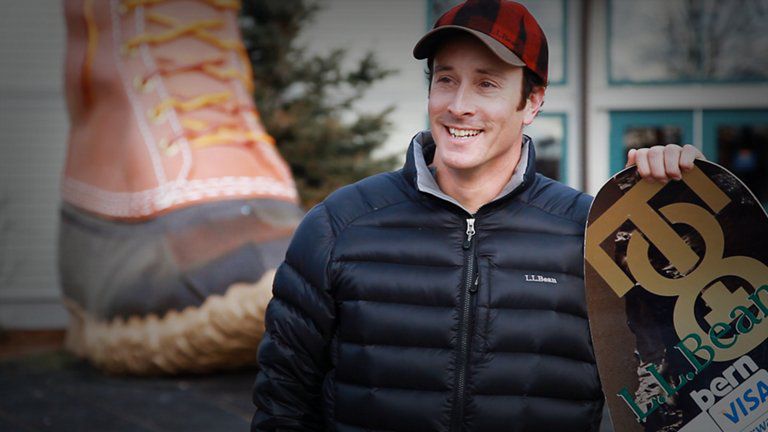 Seth Wescott, World Champion Snowboarder: It's really exciting to work with L.L.Bean. I just think it's a huge part of the lifestyle in Maine, so to be able to now become a working part of the company as they move into the next 100 years is an honor.
A.J. Curran, L.L.Bean Product Developer: When we had Seth in, it was a really great experience. He is a multiple world champion who has a breadth of experience in the backcountry as a freerider. The feedback was really unique, very direct – he really knows his product. He clearly interacts with it, depends on it and uses it to enjoy himself in the outdoors. These are all values that are really important to L.L.Bean, and that's the kind of outerwear product that we want to provide to our customers.
Seth Wescott: The biggest accomplishment in my life athletically, so far, has been to win two gold medals. They were both really unique experiences, and I think the process in the whole thing has been really kind of the true joy.
A.J. Curran: As he's become a world-class champion he's achieved incredible things, but he's also a great freerider that really gets out into the outdoors for the same reasons that a lot of us at L.L.Bean get out into the outdoors, which is enjoyment.
Seth Wescott: It was really neat to think about this pinnacle group of outerwear – for how it's going to perform in far off parts of the world, where you're putting yourself in situations where your gear is your life. To have hit the ground running the way that I did, in testing the product in Antarctica, and going through our meetings today to develop product that I can take and use in international competition, and to be able to turn it around to the general public that will be able to better enjoy their days in mountain environments all over the world. To me, that's the fun part, it's the creative part, and it's how I get to come and join this amazing operation, and grow with it for what this next 100 years can be.