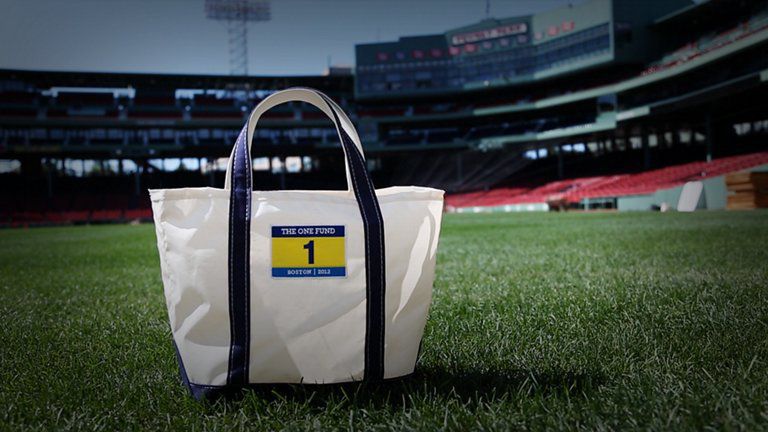 Made from the Fenway Tarp For the Love of Boston
Steve Fuller, L.L.Bean Chief Marketing Officer: When this year's marathon tragedy occurred, everyone here at L.L.Bean was impacted. We all had friends in the race, we've got friends who helped organize the race, and we just couldn't help but be incredibly impacted by what happened. We have the rain tarp that goes over Fenway Park, so one day here in Freeport we were talking about what to do with our remaining tarp, and someone had the great idea, "Let's make something for the One Fund."
Mike Sheehan, Treasurer of the One Fund Boston: The One Fund Boston was created at 10 a.m. the day after the marathon bombings with a single purpose: to help those most affected by the bombings and the events in the days after the bombing. I was not surprised to see L.L.Bean give a call, first of all with a cash donation right off the bat, and then with the One Fund Tote. The profits from the tote go to the One Fund, but it's also the spirit of it.
Steve Fuller: So one of the coolest things about the One Fund Tote is the fact that we're making it right here in our Brunswick, Maine factory. We were able to bring the tarp back last year, we had it cleaned in a decommissioned airport hangar, had it scrubbed as best we could, then we brought it into the factory to make totes out of it. We're going to make as many totes as we can, and they're going to go into the three Boston stores and the Freeport store.
Mike Sheehan: I would bet this thing sells out instantly, because people — they want to help. People want to help. The generosity of people in giving to the One Fund is unheard of.
Limited quantities. Available September 6, 9 a.m. at these select stores only: Freeport, ME; Burlington, MA; Dedham, MA; Mansfield, MA