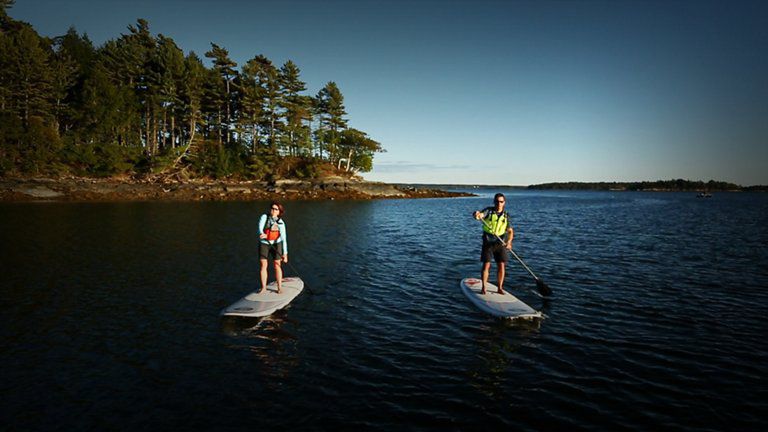 No wonder paddleboarding is one of the fastest-growing water sports around. It's easy to learn, it keeps you fit, and it's one of the easiest ways to get out on the water. If you want to get in on the fun, we can help you choose the right SUP.
Our paddleboards are divided into three categories: All-Around, Touring and Surf.
All-Around SUPs
All-around SUPs are the most versatile option. They can be used by both beginners and experienced paddlers, and you can paddle them in flat water and light surf. If you want an all-around paddleboard but have limited storage space, we also offer inflatable SUPs that pack down to the size of a duffle bag that you can stow in your trunk.
Touring SUPs
Touring SUPs are designed for multihour or multiday trips, and can be used by beginners and experienced paddlers. These stable boards are longer and deeper, and have a sharper nose than all-around SUPs. They also come with attachments for stowing gear.
Surf SUPs
Surf SUPs are designed for riding waves, so they're best for intermediate and advanced paddlers. Shorter and narrower, they're speedy and easy to turn – just keep in mind that they're also less stable than other boards.
SUPs come in different lengths and widths for optimum performance, depending on the weight of the paddler. You'll find the capacity of each SUP on our Web site, and we're here to help if you have questions. What's more, if you'd like to try stand-up paddleboarding before you purchase, our Outdoor Discovery Schools offer expert instruction at several of our stores.
Find an SUP course at llbean.com/discovery
Whether you're looking for a fun way to explore on the water or need a board the whole family can share, count on L.L.Bean to guide you with expert advice and legendary service that includes our 100% satisfaction guarantee.
Questions? Get free advice from our Paddling experts at 800-266-7552. © 2012 L.L.Bean Inc.