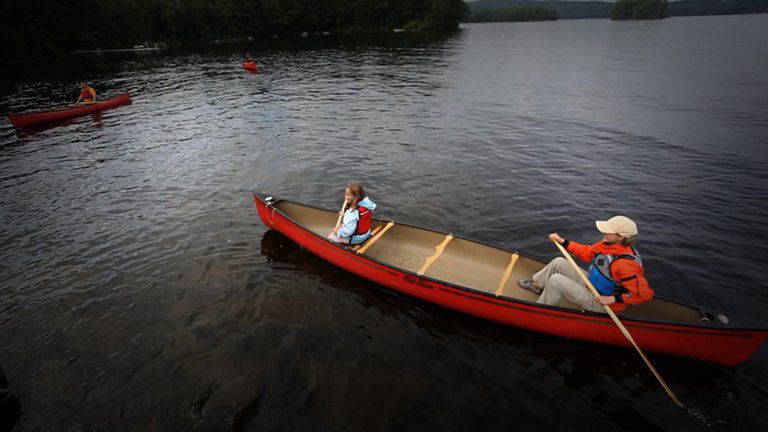 Belgrade Lakes Canoe Camping Trip
Hoffman family mom: Our favorite moment of the weekend had to be being on the water with my family paddling, with beautiful surroundings and far away from home.
Moe Auger of L.L.Bean: Sometimes you talk about kids. Kids like video games and can sit in front of a TV or computer an awful lot, and most of us tend to more than we like to. But to get out and to get away from all that, you kind of have a chance to breathe and to enjoy nature.
Chris Lane of L.L.Bean: You see a kid with a handmade whistle and they get all excited about the fact that, you know, that's something that they've never seen before. You know, they have all of the technology and all of the things, and yet something as simple as that gets them all excited.
Hoffman mom: I think what was impressive, Alex, about you, I mean – you never canoed before. You were scared. And you tried something new!
Daughter Alex: It was really fun.
Dad: Yeah, I think it's a really good, very short introduction for a family. It really is. I mean it's rare that a family can get the time to go away on a trip like this and have it all put together with the canoes and everything is really, is quite nice.
Chris: I have the opportunity to go out there and show people things that they don't get a chance to go do on their own. I mean to be able to go out and do even a day like we do and be able to bring all that equipment, you know, customers that we have are just overwhelmed with the amount of gear and the amount of things, and they would never be able to do that on our own, and here we are, giving them that opportunity out there, and it's great because they get to see it in a whole different way. So for me, that's the best part. It's the people that we get to work with.