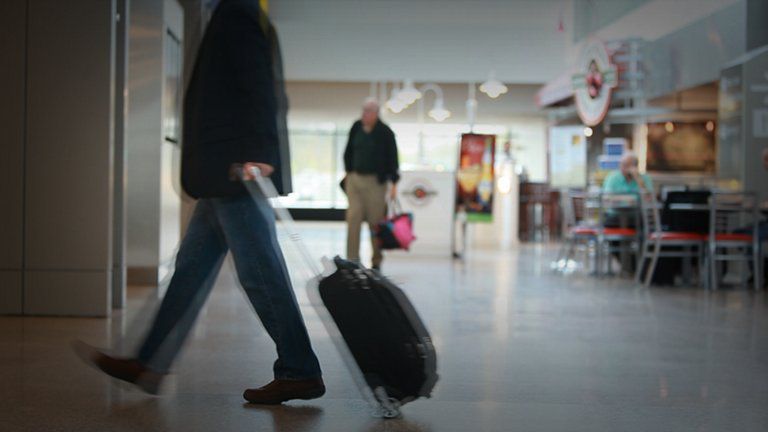 L.L.Bean Employee Travel Tips
Ever since we designed L.L.Bean's first set of luggage back in 1929, we've been developing practical, innovative gear to make travel more enjoyable for business and leisure travelers alike. Many of our employees travel thousands of miles every year. Some have logged over a million miles. So we asked our most-seasoned travelers to share their favorite products, as well as useful travel tips, to help make your next trip the best yet.
Mike S.: I traveled more than a million miles inspecting factories to ensure compliance with our company's high standard of labor practices. I think perhaps the most important piece of equipment is luggage. It gets banged around, it gets dragged through airports and our Ballistic luggage hits all three requirements that I have – it's durable, it's lightweight and it's spacious enough to fit everything I have.
Anne S.: I travel frequently with my family for vacations and to visit relatives around the country. I like to take snacks and empty water bottles along for the kids. Since you can't take liquids through airport security, we can use a water fountain to fill up the empty bottles once we're in the terminal. We also wrap our luggage handles so they are easy to spot on the luggage carousel. Bright colors and patterns work well, and the best part is we can turn it into an I-Spy game for the kids.
Marcia M.: I travel all over the world to direct photo shoots for L.L.Bean. My go-to luggage is L.L.Bean's Quickload Collection. It's extremely lightweight and a large opening makes for easy packing. Because the weather can change at a moment's notice when you are shooting outside all day long, I like to have many layers and many options so that I'm always prepared. I also like to roll my clothes because it cuts down on creases and wrinkles. No ironing and no fuss is the easiest way to travel.
Winnie S.: I travel several times a year, not only for work, but also to visit my family in Hong Kong. I really like taking the luggage scale to weigh my luggage before I get to the airport. It saves on extra fees for heavyweight luggage. I also never leave home without a sweater. It can get chilly on airplanes and in hotels.
Lincoln B.: I travel around the world shooting product videos with up to 140 pounds of gear in tow. Wherever I go, I always make sure I bring one of our Extra-Large Adventure Duffles. They carry so much stuff and it really helps me keep the weight down at check-in. I also really like our Stowaway Rain Jacket. It's just a great, light, all-around jacket that doubles as a windbreaker. And it packs down in its own pocket, so it's perfect for when I need to save space in my luggage.
Narrator: All L.L.Bean travel items are designed by our product experts and field-tested by our own travelers, to ensure you are buying the most durable and innovative products on the market. And, as always, everything we sell is backed by our legendary guarantee of 100% satisfaction.