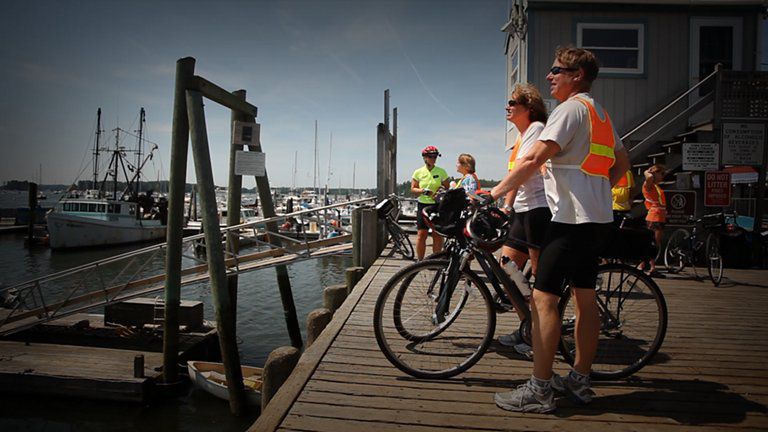 Maine Coastal Camping Bike Tour
Hi. I'm David Falco, a bike tour guide with L.L.Bean, here to talk with you about the Maine Coastal Camping Bike Tour.
The most exciting component for the participant is probably the scenery. It's not so much about riding technique, but just seeing the Maine coast that they wouldn't be able to see anywhere else. Here's what a couple of visitors to Maine had to say about the bike tour:
Nancy: I've never been to Maine; it's my first time. So it's a great way to get to see and feel the state that's different than just a usual kind of vacation.
Charlie: I think coming up, we thought it would be enjoyable but we were talking mid-way on the ride and it was even more enjoyable than we thought it would be. Just, you know, the scenery is beautiful; all the little things were taken care of so we could just focus on enjoying the bike ride and having a good time.
David: Well, probably my favorite part of leading the adventure is when we get back here, recognizing that people are pretty intimidated by 25- or 30-mile rides, and then they arrive back here, recognizing that it's not that bad, and they can, in fact, do what seems insurmountable.
Charlie: I think, for me, I would tell people like that, if you're hesitating, don't. The outdoors can be intimidating to some people and this is not. This is very accessible; it's very fun. You'll do something that will make you feel good about yourself and you'll have a great time at the same time, so I would strongly encourage it.