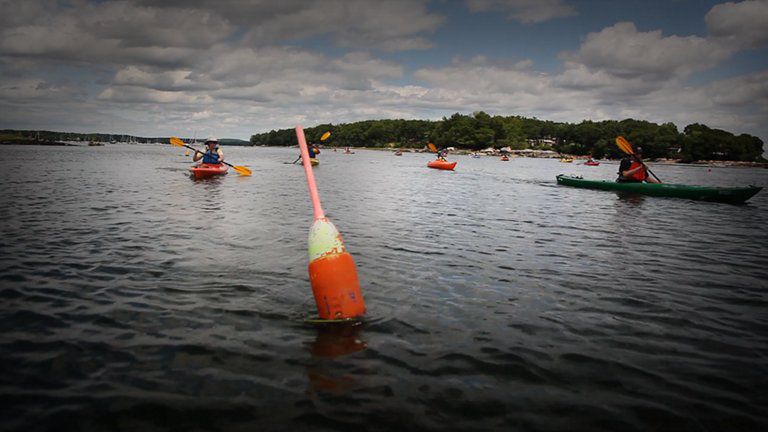 Kayaking
Outdoor Discovery School participants Mary and Madeline: We're from Arizona where there's not very much water, so we were a little bit nervous. But it was great; the people were great in teaching us how to do it. Loved it!
Kevin Hinds of L.L.Bean: One of the neat things is just the chance to work with people and connect with them, and bring them in the outdoors, which is so much fun. And teaching them a lifelong sport is just a neat experience to see their first time on the water, a lot of them, and just getting a chance to do something they've never done before. I mean, it's such a nice, protected river in a lot of ways. There's a lot of local history around here. Great wildlife, too. We take a lot of time to try and point out and talk about it from time to time.
Elaine Brassard of L.L.Bean: Everything from osprey to bald eagles to the fact that we're on a beautiful saltwater farm, and there's great history in the area.
ODS participant Eric: Pretty cool.
Participant Susan: Yeah, I thought it was a blast. And it was a great group of people.
Kevin: You can't find anything else that's this inexpensive and a chance to really get some professional help, to be able to watch you, keep you safe, and try something really new, and get out there. Our discovery programs are so much fun, and we're very proud of them and excited that we have a chance to offer that to the public.