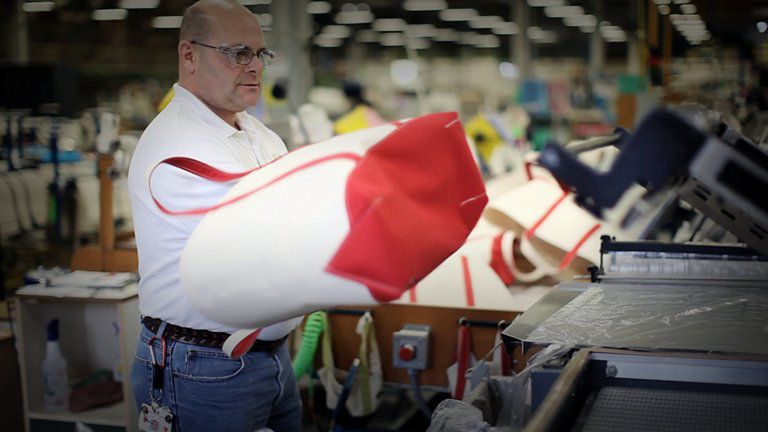 Boat and Tote Bags
The Boat and Tote was originally inspired by an ice carrier, but it really took on its current form in the 1960s, when we began offering it with a red trim or a blue trim. We here at L.L.Bean are very proud of our manufacturing facility here in Brunswick, Maine. This is where we make our iconic Boat and Tote Bags with the highest-quality materials and construction.
Our process...
Employee 1: I cut the material for Boat and Tote. This is a style for everyone.
Employee 2: I've got the first stitching operation of the bag. I'm folding the top of the bag and I put the label in.
Employee 3: We have what we call the inserts that are put in and it goes in through a guide to put the handle on. That way it makes them all come out even.
Employee 4: I have been with this company for 31 years. I do everything by eye. When I come down the first side, I have to come down to the bottom material. Then when I roll it up, I know that it needs to be up 4¼ from the bottom.
Employee 5: Before I do anything, I check it over to make sure there are no defects on the bag itself, and then when I'm done, after I seal it, I put the product label on it, I put it in my box, I case it up. And then I ship it out and put it on the skid.
Employee 6: We're all conscientious about our bags, and we take pride in it, and we all work as a team, and we do good quality.