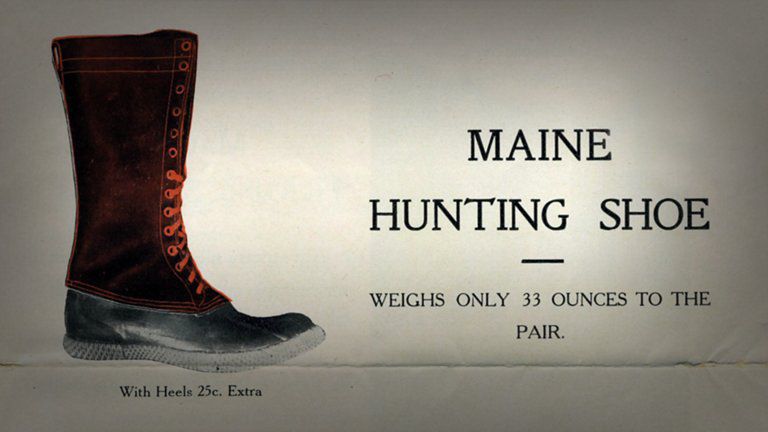 Bean Boots by L.L.Bean
Hi. I'm Jack Samson from L.L.Bean's manufacturing department. Back in 1912, Leon Leonwood Bean designed a boot that would keep his feet dry, and yet give him comfort while he was out hunting. It was a rubber bottom with a leather top. He actually created this design and he came back and hired a local cobbler. They made 100 pair. He marketed those 100 pair and sent them out. Ninety of them came back, and he made good on those 90 pair. Thus, the guarantee was born, and we've been making them here in Maine ever since.
We started manufacturing our product on our own in the retail store. Customers can come in and actually see the boot being made. Over the years we've evolved and we've moved to different locations around the Freeport area. We now have settled in Brunswick, we've been here for the last 21 years. It's modernized, we use more modern equipment, safer equipment, but overall, the process is still the same.
Here are some comments from Bean employees.
Employee 1: I'm a Maine Hunting Shoe leather cutter. There's a lot of pride in what we do here. For me, growing up in Maine, coming to Bean's, this long ago, has given me a real sense of pride. They take care of you here. It's a big family. We have good people. And we put out a quality product.
Employee 2: I actually think it's pretty great. I like knowing that people are wearing what we make and a lot of work goes into making the Maine Hunting Shoe. I think it's pretty special to be a part of it.
Employee 3: I have a lot of pride in the product. I love the company. I've been here for 17 years. When I go in the store and I see people looking at them, I want to go, "Oh, look! I know exactly how that was made, you know?"
Employee 4: I think it's cool, because especially when I go up to the store, and I'll see the boxes lying around, and I'll look and say, "Oh, that's my number, I packed this pair," and I get really excited. I live in Freeport, so it's nice to see people walking with their bags from L.L.Bean. And you hope that they bought a pair of boots! It's exciting to know the product that you made."
Employee 5: Well, I definitely take pride in what I do, I want to push on to the next person something that's a piece of quality that I would be willing to purchase myself. If I'm not going to buy it myself, I'm not going to pass it on to a customer.