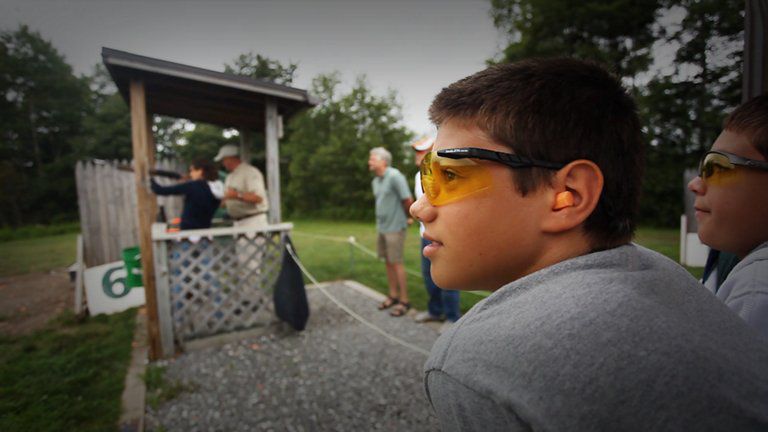 Sporting Clays
Del Temple and Denis Hebert, Wing Sporting Clay instructors for L.L.Bean:
Denis: We like teaching the discovery course because people learn how to enjoy wing-shooting sport. They get the basics here, and several of the people I've talked to have gone on and have decided that they want to try more sporting clays and other clay games.
Here are some participants who definitely enjoyed the experience:
Peter: Well, we were here last week, and we did it and we had to come back, and actually we brought Alexandra along this time because it was that much fun.
Alex: It was my first time; it was awesome. Shooting the target was like, when I got the target, I was very proud of myself.
Anthony: When you see it explode, you're like, "yeah, yeah!"
Alex: That's right!
Peter: Overall, I think it's just really impressive how powerful a gun is and I just haven't had that experience before.
Alex: Yeah, you can really feel it after.
Del: Gun safety, we teach them a lot about gun safety in the short time that they're here. That's very important, they take a lot of that away, also. That's a good thing. We only have them for an hour, and they learn! Especially the young people, they pick it up so quick.
Denis: Yeah, the safety aspects that we teach in this class are transferrable to any firearms that you deal with.
Anthony: I would pay a lot more for this experience, it's cheap and it's so much fun. It's completely worth it.
Peter: Great value.
Del: I started the shooting, I don't know, I was 10 or 12 years old, and I'm a lot older than that now, so I've been shooting competition for probably 50 years.
Denis: There was black powder back then, wasn't there?
Del: No!