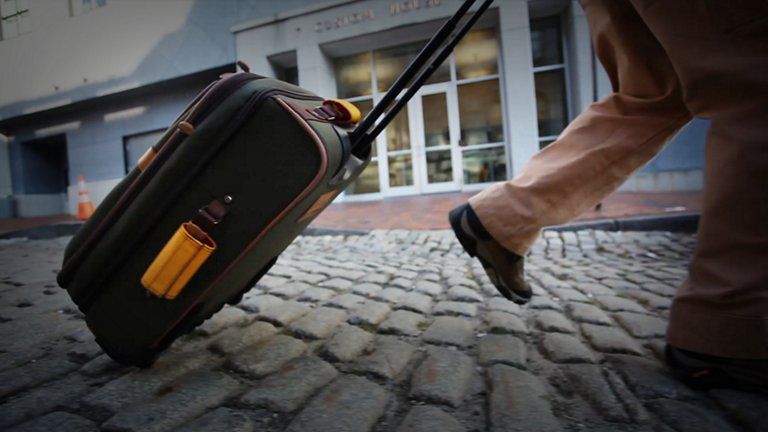 Luggage Testing
I'm Dan (Otis), I'm Tom (Begley), and we work in product research at L.L.Bean.
Tom: The Old Port Course Luggage Test was designed 10 years ago. It's a one-mile course and it goes all the way through the Old Port in downtown Portland, Maine. Each part of the course is specific to a certain area in the luggage – cobblestones test the wheels, granite curbs to test the frames, stairways to test the handles – everything is basically pass or fail. If it falls apart, breaks, rips, tears or just basically breaks down, it's time to redesign it and make it so that our customer will be 100 percent satisfied when they use this product in the real world.
Dan: The important part about testing is you do lab testing and you'll do field testing, and when everything works right, the two agree.
Tom: The fabric will come in: we'll break it under set loads, we'll tear it, we'll put water pressure up against it to see if you put your piece of luggage in a puddle, will you now have water coming through. We'll do every aspect of type of abrasion, color-fastness to make sure that when you're done with this piece of luggage, it meets all of our rigid standards.
Dan: You know it was actually kind of funny, to go through the airport and we know what the luggage will handle. So I've got my rolling luggage, and I'll go down the stairs – b'dump, b'dump, b'dump, b'dump, b'dump! – And people gasp, "What are you doing with that piece of luggage?" But I know it'll handle it.
Tom: When we're done testing this piece, and it meets all our testing requirements as well as our expectations of our testing, we can then say it's ready to meet our 100% guarantee.
Dan: We'll be ensuring that the customer will be happy with the product, which is what our guarantee is all about. We want people to be satisfied and happy with what they buy.