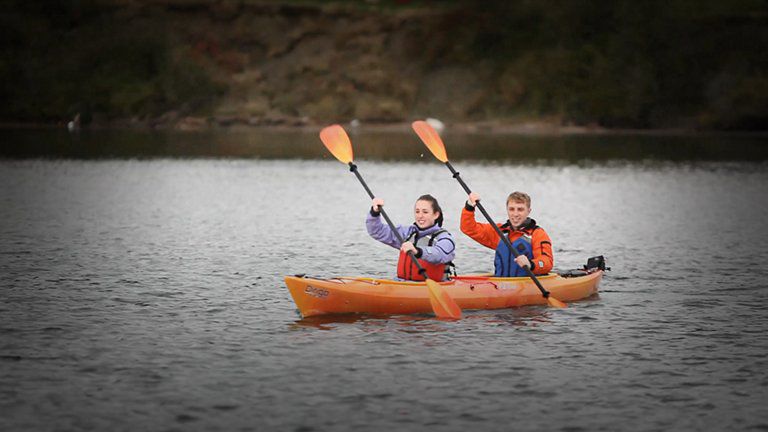 Dirigo XT Tandem Plus Kayak by Old Town
Hi. I'm Scot Balentine from the Boating Product Development team at L.L.Bean, and we're here today to talk about the new Dirigo Tandem Kayak.
Bean has had a relationship with Old Town for probably the last 80 years. Old Town's actually an older company than Bean; they were formed in the late 1800s, and they've been building boats in the same factory in Old Town, Maine, since then. Bean started out with them selling wooden dories and wooden canoes, and now we're using very technical materials still shaped by Maine craftsmen in Old Town.
This is the new Dirigo Tandem Kayak. This is a very versatile kayak – it's something you can set up as a tandem boat so two people can paddle it comfortably. The rear seat does adjust, so you can move it forward and paddle the boat as a solo boat. Also, in the tandem configuration, there's a child seat so you can have a child sitting in there with you.
Another feature is the watertight hatch. It's unique in the kayak side of the business in that it isn't a rubber seal that you have to snap down over the top; It's a really easy, hinged lid with two latches, so it's really easy to open up, put whatever you want in it – whether it's spare clothing, a lunch or safety equipment – then seal it back up. And that compartment is also sealed off with a bulkhead within the boat. So it's a nice, dry compartment to store gear.
Another feature is the paddle park – it allows you to store the paddle when it's not in use, on the side of the boat. The boat also has adjustable foot pegs; you can customize the fit for your leg length. The Dirigo also has the new Comfort Seating System. It's made out of a dual-density foam that Old Town found while looking at some athletic footwear. It has a fairly rigid form that adds shape and structure and support, and then a really soft foam for the contact points where you're body's in there.
This boat has really good stability because of its width. It also paddles very well, travels fairly fast because it is 15½ feet long, with allows the boat to move at a good speed and track very well. In addition, there is a rudder on the boat, so if you get into windy conditions, it's very easy to keep the boat on track. This is a great boat for getting the whole family out on the water. It's got lots of great features, it's very comfortable, it paddles very well, and it's a great value.