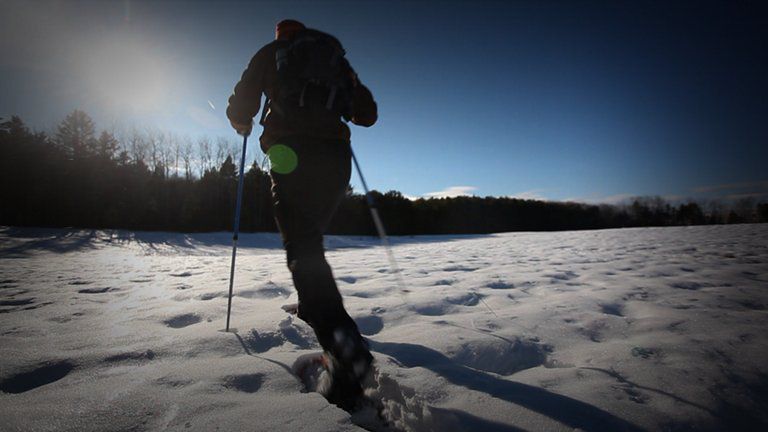 Intro to Snowshoeing
Hi. My name is Nathan Mack. I work in product development at L.L.Bean. I'm here at the Fogg Farm in Freeport, Maine, to talk to about how easy it is to get started snowshoeing.
To get started with this sport, you just need a pair of snowshoes, comfortable winter boots, winter trekking poles – a pair of gators can be nice to keep the snow out of your shoes – and appropriate winter apparel to keep you warm and dry.
Prior to going snowshoeing, it's always a good idea to bring a few things in your pack to help make the experience more enjoyable. I always like to include an insulated layer, a water bottle; a vacuum bottle with a warm beverage; small first-aid kit; a headlamp, should you stay out later than anticipated and it turns dark; and an extra pair of gloves.
Now you have the equipment you need, your pack is loaded, and it's time to get on the trail. Snowshoeing is just as easy as walking, but there's a few important tips that will help make it an even more enjoyable experience. When walking with your snowshoes on, you want to keep your feet just a little bit wider so that your snowshoes don't hit. And if you lead with your poles, it will provide great balance.
Snowshoes are designed to provide excellent floatation and the traction you need on hard snow and ice. When climbing or ascending on your snowshoes, it's important to engage the crampon into the hard packed snow or ice, so that they provide the traction that you need. When going downhill, or descending on your snowshoes, you also want to utilize the traction provided by your crampon, and make sure to provide firm contact with the hard snow and ice.
Snowshoeing is a great winter activity, and it's so easy to get started. I'll see you out on the trail!