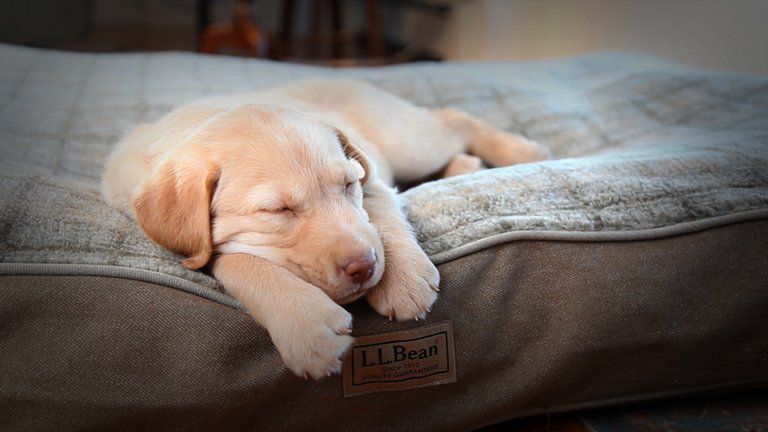 Premium Dog Beds
Here at L.L.Bean, dogs are more than just the stars of our favorite catalog covers; they're our best friends, too. So when we decided to redesign our dog beds, we engineered them from the inside out for the comfort and durability our friends deserve.
The comfort starts with an innovative mattress insert made in our own manufacturing facility in Brunswick, Maine. We've chosen a unique combination of materials to help our beds retain their shape and prevent uncomfortable flat spots. At the core, we use a solid bat of insulation that provides firm support for the dog's weight. Next, loose-fill insulation is blown in around the core; dogs love to push the loose fill around to form a comfortable nest they can curl up in. The durable nylon shell is gusseted at the edge to form a firm shelf where your dog can rest his head and watch the world go by.
Our dog bed covers are made from a rugged Portuguese denim that is incredibly soft but stands up to years of wear from your dog and your washing machine. Even the zippers are fully covered, and the zipper pull tucks safely away from dogs that like to chew. Our Premium Dog Beds come in four sizes, each one engineered for the size and weight of the dog breed it fits. Larger beds have thicker mattress inserts, so there's plenty of support for even the biggest dogs.
We've heard from our customers and their dogs that our Premium Dog Beds are the most comfortable on the market today. And, unlike many dog beds, these are built to last, so they're a great value.