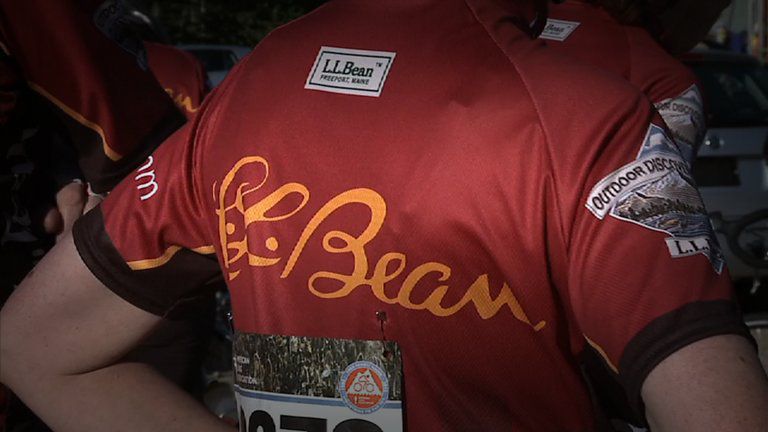 L.L.Bean Team Rides in the Trek Across Maine
Because it is the 100th anniversary of L.L.Bean this year (2012), we've had an increased excitement about the Trek. We have 221 riders riding in the Trek. We have employees, friends, family, and customers. People from all over the country – we have people from Texas, we have people from Illinois, Virginia, Maryland, Pennsylvania, New York, Massachusetts, Vermont, the Bean Team has raised a little over $150,000 to help everyone get clean air.
Hi. My name is Kevin Nadeau. I work in product development for L.L.Bean and this is my wife, Ruth. This is our first time on the Trek, and we're having a blast. Thanks to my parents for taking our two young kids for the weekend so that we can do this!
Here are some comments from Trek-goers...
Participant 1: This is my first Trek. I'm very excited. I've been training for a couple of months and I have to say the first 25 miles went really well. I'm looking forward to Mile 57, which is where my husband is as a road marshal today, so go Bean's!
Bruce: This is the first time, and I'm with Carla 'The Animal' Richie, and she's setting a pace that's going to kill me by the time we get to the end today!
Carla: It's good for you, Bruce; I'm just keeping you young.
Participant 4: We don't have any hills in Illinois, so when we come out here we get to experience that. We don't love them when we're on them, but we love them when we're done. An accomplishment of doing this long ride.
Woman 1: What was it like volunteering?
Boy volunteer: Good, fun!
Woman 2: How many years have you done volunteering?
Boy: Three.
Woman 2: Three years, and this is the table that is his favorite to work at.
Volunteer mechanic: This year is my first year as a bike mechanic in the Trek Across Maine, it's a lot of fun to provide a little support and help out everybody who needs a hand or a quick adjustment to make it to the end of the day.
Participant 5: This has been on my bucket list for years. I've been inspired by all the people I work with, and it's just been a fabulous experience.