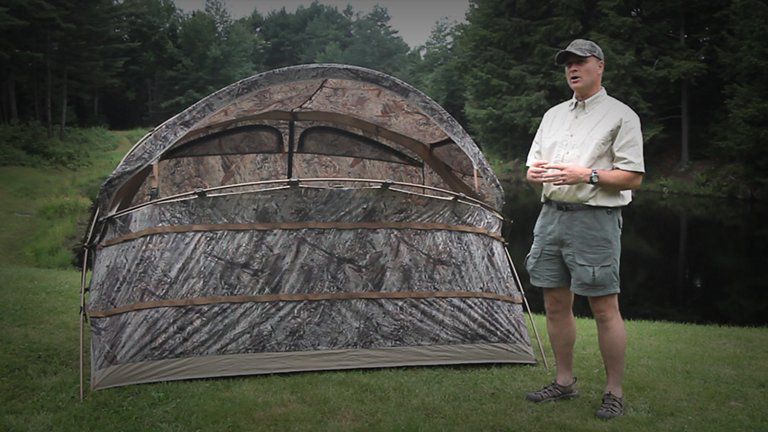 Duck House Waterfowl Blind
Hi. I'm Kevin Murray, a product developer for hunting and fishing products here at L.L.Bean. We've gone out to look for a waterfowling blind and discovered that there are no blinds on the market that take care of the waterfowler necessarily. There's all kinds of dome-shaped ones and flat ones and tall ones, but we thought a horizontal design for a duck-hunting blind would be best.
We came up with this horizontal design, as you can see here, so that three hunters can sit side-by-side comfortably with their dog and be able to pop up and shoot at any time, without getting in each other's way.
There are two Fastex buckles, one on each side. You just pop it, send it back and it gives you a wide swing with your gun. There's nothing in your way to be able to set out and shoot at the ducks. Inside, we have a few features that are good for the hunter. Each hunter (since three can fit in here) has their own mesh bag to put either shells or maybe a thermos full of warm coffee in, and they're buckled in underneath the shelf.
One of the other features is that it's superlight – this unit only weighs about 14½ pounds. An aluminum frame with no shine on the paint. It's an exoskeleton, so the tent goes on the inside of this shell and you can grass it up with all these grassing loops that you see on the front.
A good design in here (that you really need when you're waterfowling because ducks can come from anywhere) is that we have built lots of little windows that will allow you to peek out without the duck being able to see you moving as you do so. Sometimes they circle behind you several times when they're really wild ducks.
A feature for man's best friend is on the side – we have a dog door built in. You just unzip it and the dog will come out, make his retrieve, come back to you and you can take the duck and let him shake first before he comes back in the blind or you'd be really wet.
We're very proud of this particular product because at L.L. Bean we don't make it just like everybody else. It's very unique. It's an innovative design. It's something that isn't out there currently and it serves a functional purpose for the hunter.