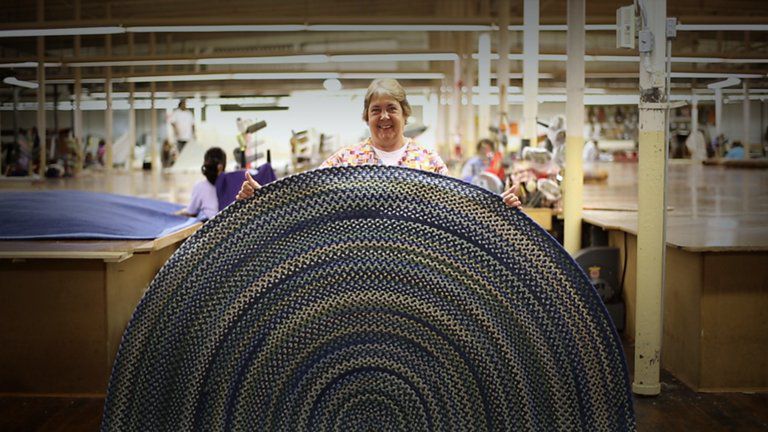 Braided Rugs by Capel
Our top-rated braided rugs are made in Troy, North Carolina, by Capel, the premier manufacturer of area rugs in the U.S.A. Much like L.L.Bean, Capel is a family-owned business with a long tradition of providing top-quality products for their customers. We value Capel for their employees' dedication to their craft, their ability to meet our rigorous standards year after year, and the fact that they make our rugs here in the states, from start to finish.
Hi. I'm Cameron Capel. Capel Rugs was started by my grandfather, A. Leon Capel, in 1917. His original business was a plow-line business. And in 1917, when the tractor came out, he wasn't sure what to do, thought on it, and ended up buying some braiding machines, where he braided these yarns together and then set them in ever-increasing concentric circles, thus manufacturing the very first braided rugs.
We do everything it takes to the rug to make a finished product. We start with the raw materials and it goes through numerous processes of carting, spinning, dying, braiding and sewing, to make a braided rug as the finished product, so we know that we're making the highest-quality product for L.L.Bean.
Our sewers take enormous pride in what they manufacture – in fact, down to the point where they will sign each label that is sewn on the rug that is shipped out to the L.L.Bean consumer. Capel and L.L.Bean have enjoyed a wonderful partnership since 1984. We both are family-run businesses and both want to give the consumer the highest-quality product out there.