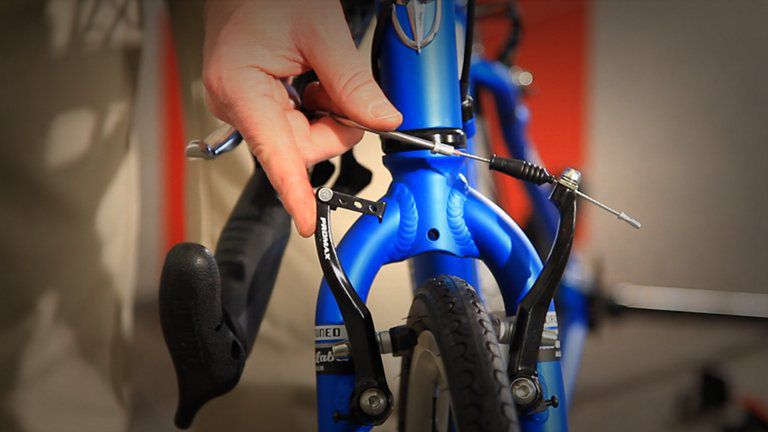 Bicycle Assembly: Sport Trail, Sport Tour or Ridge Runner Bicycles
At L.L.Bean, we preassemble your bike and perform a series of adjustments and safety checks to ensure that it's ready for you to ride, almost right out of the box. After we've completed our safety inspection, we partially disassemble the bike so it can be shipped to your door.
What you'll need: Your bike can be reassembled in four easy steps. You'll need a pair of pliers, a 5-mm Allen wrench, an adjustable wrench and a Phillips head screwdriver.
1. Install the front tire. Use your pliers to take off all packaging materials, then install the quick-release front skewer on the front wheel by removing the end nut and spring. Place the quick release through the wheel and reinstall the spring and nut. Make sure the small end of the spring goes on first. Release the brake and make sure the tread direction matches that of the rear wheel. Use your hand to tighten the quick release. When the lever is halfway closed, there should be firm resistance. Once the front wheel is firmly in place, make sure to reattach the front brake.

2. Install the handlebars. Find your 5-mm Allen wrench. Adjust the handlebar stem to a 20-degree angle by locating the measurement on the side. Then tighten the bolt under the stem. Next, remove the two top bolts from the stem. Set the handlebars in place so the brake cables are in front and the brake handgrips are parallel to the ground, ensuring a comfortable riding position, then reinstall the two bolts. Make sure you tighten the two bolts that secure the handlebars in place and not the single bolt at the top of the stem.

3. Secure the pedals. Tighten the right-hand pedal on the right-hand crank arm carefully. Turn in a clockwise direction, the same direction as the wheels turn when going forward. Use your adjustable wrench to ensure a snug fit, but be careful not to over tighten. Follow the same steps for the left pedal, but rotate counterclockwise.

4. Attach the reflectors and adjust the seat. Attach the silver reflector to the front handlebars followed by the red reflector to the rear seat post using your Phillips head screwdriver. Use your Allen wrench to adjust the seat post to the proper height. Your knees should be slightly bent when you are in a riding stance on the bicycle, with the pedal in the lowest position.
Now you're ready to ride your L.L.Bean bicycle. Have a great time out there – and remember, always wear a helmet.