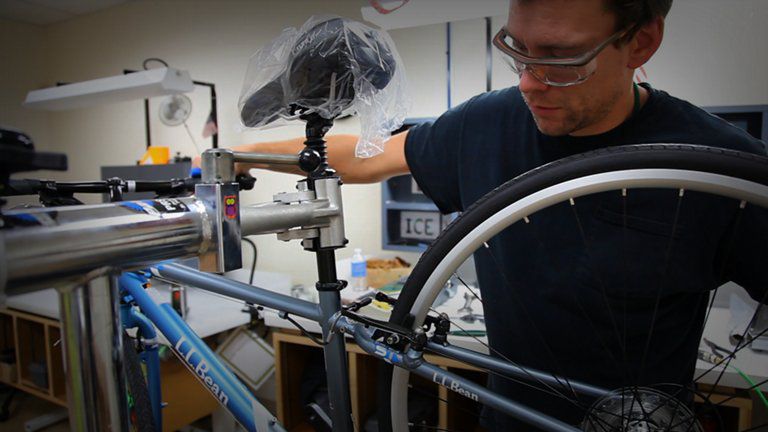 Bicycle Safety
Hi. I'm Nathan Mack, and I work in product development at L.L.Bean. I'm here today to talk about bicycle safety. There are several steps you can take to make sure you're safe on two wheels.
First, check that your bike fits properly. When you are seated on your bike, you should feel comfortable – your knees should be slightly bent with the pedal in the lowest position.
Your most important piece of safety equipment is your bicycle helmet. Your helmet should be comfortable and level on your head. The strap should be buckled snugly against the underside of your chin.
Always wear bright clothing so motorists, pedestrians and other cyclists can easily see you. Your bike should have a white reflector on the front and a red reflector on the rear. If you plan on riding at night you should always use bicycle lights in the front and rear to make yourself more visible to motorists. Your clothing should always be reflective to help with visibility.
Before each time you ride, perform a quick ABC safety check. Make sure your tires are properly inflated, and check the air levels regularly. Keep a small bike pump in your garage in case your tires need filling up. Before you head out for a ride, squeeze the brakes to make sure they aren't too loose. Brakes in good condition should stop the wheel from moving without too much pressure. Make sure your chain is well oiled and in place. A dry, rusty, or stretched bicycle chain can cause problems while riding. It's a good idea to bring your bike into a local shop for a tune up and inspection before the start of every biking season.
Now that you've brushed up on your safe-cycling skills, you're ready to ride! Whether you're commuting to work or taking your tour with your family, we hope your next ride is a fun and safe one.