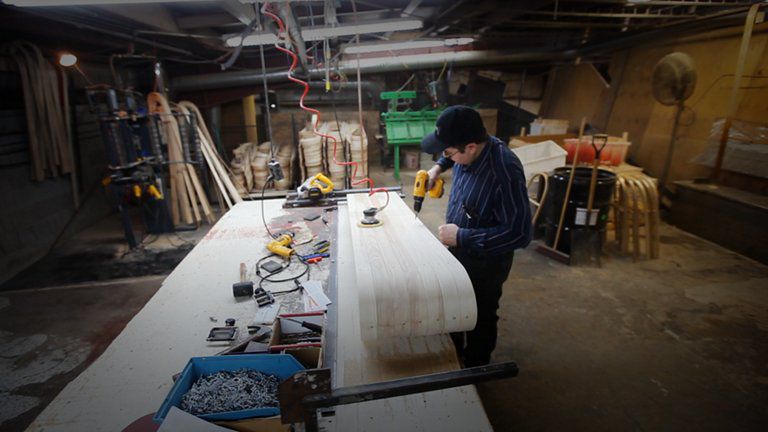 Pull Sleds and Toboggans
Hi. I'm Steve Monahan from L.L.Bean product development. Here, at L.L.Bean, we use the same traditions building our wooden sleds and toboggans as we did 80 years ago. That's why we partner with Bauman Sawmill to manufacture our sleds and toboggans. This is an established, family-owned company with a real history of quality and craftsmanship that shows up in the finished product.
Paul Teskey of Bauman Sawmills: Our level of quality is the level that L.L.Bean customers expect, and in some cases, beyond. Our wood is thicker than almost anything else you'll find out there for sled and toboggans. If you air-dry the wood for six months or more, you have a much stronger piece of wood in the end, and that's what we do. Every sled or toboggan has a number of boards. We have to go through a process of steam-bending them. We bring the wood up to a certain level of moisture, then we take it out and we put it into a bending machine. This takes those slats of wood and bends that wood according to their needs.
Steve: Instead of staples, like most of the industry uses, we use screws to connect our cleats and slats together. Staples, over time, will rot and deteriorate and break apart, where our screws, they'll be around longer than you and I will ever be.
Paul: And that's what we're talking about here. We're talking about an heirloom that is handed down through a family.
Steve: I have a wooden toboggan and I'll give it to my daughter, and, hopefully, she'll give it to her kids someday. Our sleds and toboggans definitely are not here for just one generation; they're here for many, many generations.