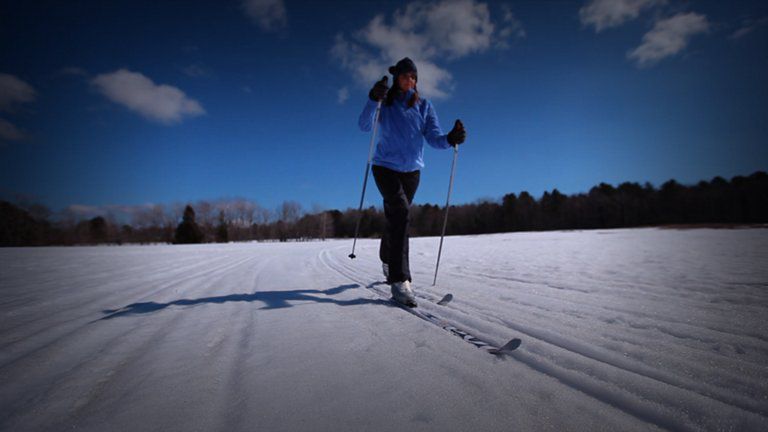 Introduction to Cross-Country Skiing
Hello. I'm Kevin Hinds. I'm a cross-country skiing and snowshoe instructor here at L.L.Bean in Freeport, Maine. We're going to be teaching you today some basic cross country skiing techniques so you can get out and enjoy a great form of exercise and a new winter sport.
Here's what you need to get started: skis with bindings, poles and boots, and these all come standard with L.L.Bean's Discovery Ski Set. So to get started, let's find a nice flat spot on the snow.
1. Getting on your skis. Go ahead and place your skis parallel. On the L.L.Bean Discovery Set, there is not a right or left ski. I try not to use my poles at first because I want to make sure to work on my balance and the transfer of weight, so you can just toss your poles lightly off to the side. Next, you're going to line up the toe bar on the front of the boot with the gray arrow on the binding, step down and clip in.

2. Stance and basic movement. The first thing you do when you get on your skis is you want to think about your body position. You want your knees to have a nice, slight bend in them, and your nose over your toes or the tips of the skis. The next thing you're going to work on is this transfer of weight. So you're going to sidestep to the right, by lifting up the right ski and moving it, and then bringing the left ski there, continuing to keep your knees slightly bent, nose over your toes. The next thing we're going to work on is turning. You're going to turn by keeping the tips apart and tails together, knees still bent, nose over the toes. We'll try this again, turning in the opposite direction, with the tips together and tails apart. Nice small steps.

3. Getting back up. There's two types of skiers: those that will fall and those who have fallen. So the first thing you do when you fall is put your poles off to the side, then get on your back, bring the tips of the skis toward your chest, and start gaining some momentum to rock back and forth so you can get all the way onto your knees. Then, get one leg in front of you, and brace off the leg, and stand up.

3. Moving forward. Let's start working on moving. So what we're going to first do is, without the poles, you're still going to have a nice slight bend in the needs, nose over the toes, and start kicking and gliding. So push off one foot, glide onto the next. Next, we're going to start adding in the arms. So as the right ski goes forward, the right arm goes back, the left ski goes forward, the left arm goes back. Next, we're going to add the poles. So as the right ski goes forward, the right pole goes back. Push, kick, glide. Push, kick, glide.

4. Coming to a stop. So now, we're going to work on stopping. So as you're going downhill and gaining a little bit of momentum, at some point, you're going to bend your knees, lean a little bit forward and put your skis into a snow plow to come to a stop. To get out of your skis, find a nice flat spot and come to a full stop and use the tip of your ski pole tip to lightly depress the gray button in front of the binding and release your foot.
So now that you have some basic techniques to start cross-country skiing, you've just got to get out there and practice, whether it's nearby in a field or your backyard, just get out and enjoy the winter. For more tips, come to L.L.Bean's Outdoor Discovery, and take of our cross-country skiing Walk-On Adventures.