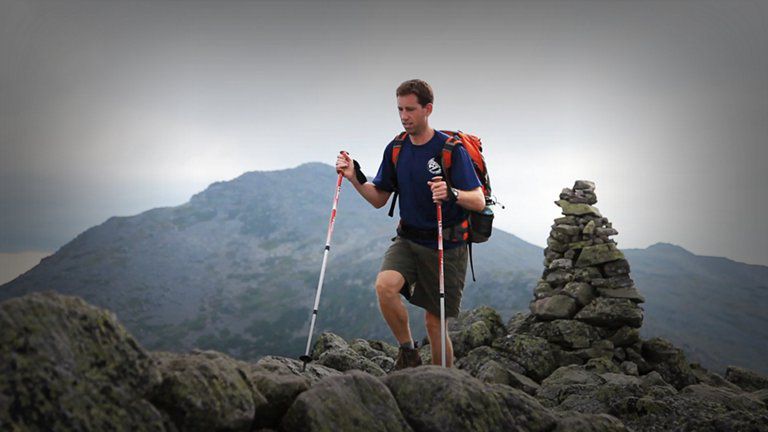 Poles for Hiking and Winter Sports
Hi. I'm Steve Monahan from L.L.Bean's product development team. Here, at L.L.Bean, we make sure we have the right pole for our customer, whether it be Nordic skiing, snowshoeing or trekking.
In Nordic, they're a fixed length, so it's based on your end use, whether you're skating or classic. We'll determine based off your height what length of pole you would need. With snowshoeing, they traditionally come two-piece pole. So, depending on whether you're on flat terrain or going up into the mountains a little bit, there's adjustability – also, depending on what the snow conditions are – if it's hard or soft and fluffy. And then trekking poles, hiking poles, are three-piece poles. And, again, those are depending on where you're going. If you're going uphill, up a mountain, you traditionally make those shorter.
As you're coming down the mountain, you would make them longer. So you can adjust them on the fly to help with your load. And then packability: If you're backpacking, you don't always want to use your poles. So being a three-piece pole, you can collapse it and it'll fit in your backpack easily.
All of our L.L.Bean-branded poles are made by Komperdell in Austria. One of the reasons why we partnered with Komperdell is innovation. We can always count on Komperdell to have the best.
Thomas Roiser, Komperdell's CEO: Our Komperdell pole is a top-quality product, simply for the reason we take pride in actually going steps further than any other pole manufacturer. We control the raw materials. We develop our own raw materials based off the product has to be right in order to get a great product out in the end.
Steve: If you look at the price of our pole versus what you could get for the same money, it's night and day. Ours are aluminum cork handle grip, where something comparable would probably be fiberglass and a plastic grip. So our product would definitely outperform and last a lot longer.
Thomas: When we develop a product with an L.L.Bean product manager, it is not just for the season. It's a product that should stand the test of time. A product that somebody has been using for 30 years and still is happy with.