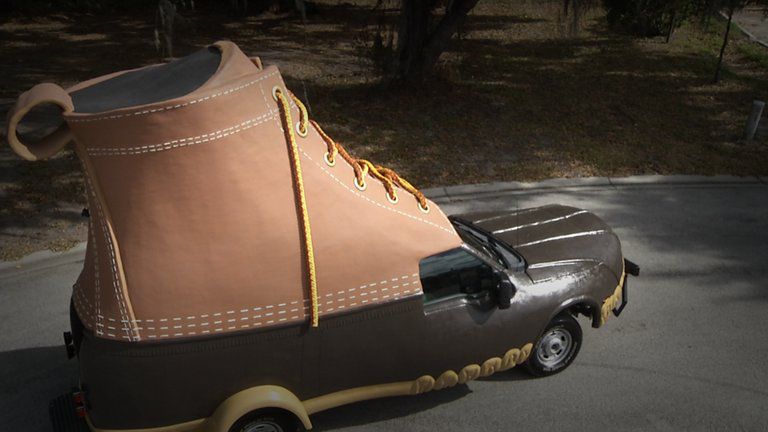 Introducing the L.L.Bean Bootmobile
Hi. I'm Richard Bulman, the Bootmobile project manager. As we considered how to best celebrate L.L. Bean's 100th anniversary, we thought, what better way than to pay tribute to the Maine Hunting Shoe – the product that started it all 100 years ago.
Zachary Weikart: The idea here is not to put a boot on a truck; it's putting a truck inside of a boot. The boot is the primary feature; the truck is really the vehicle, no play on words – it's the vehicle to get us there. So it's obviously not as easy as just going down to your local car dealership, buying a truck, putting some foam on it, and making it look like a boot. It goes a little bit deeper than that.
Chuck Yex: We went through several steps. We actually had the first concept sketches – the vehicle was facing backwards on the back of a flatbed truck – and as we progressed through it, we decided the best look is a forward-facing boot. From the sketches, then we went to 3-D modeling, where we 3-D scanned a real boot and had a model of a pickup truck, and then we interlaced them together, put it over top so we could see the touch points, the size differences. From that point, we even cut up some boots and put model trucks inside of them.
Zachary: The boot's already been sculpted in foam. After this, it's going to get covered in fiberglass. We'll take a lot of the foam out, add some steel structure to support the fiberglass to the frame, it'll get painted the iconic colors of the L.L.Bean boot all the way down to the dual-color lace, which is actually 2-inch mooring rope for a tugboat, so technically the laces on this thing could pull 120 tons. We're not doing an artistic piece here, we're replicating a boot, which is what's important – to keep these proportions, keep the details down to the dual-colored laces, the stitching line.
Chuck: It's great, you know, to be a part of – it's really history.
Zachary: Part of history and bringing an icon to life.
Richard: So throughout 2012, the L.L.Bean Bootmobile is going to be traveling the country as a symbol of the quality and the craftsmanship that L.L.Bean is known for, and as a reminder of how we've helped people get outdoors for 100 years, and how we'll continue to do so for the next 100 years.