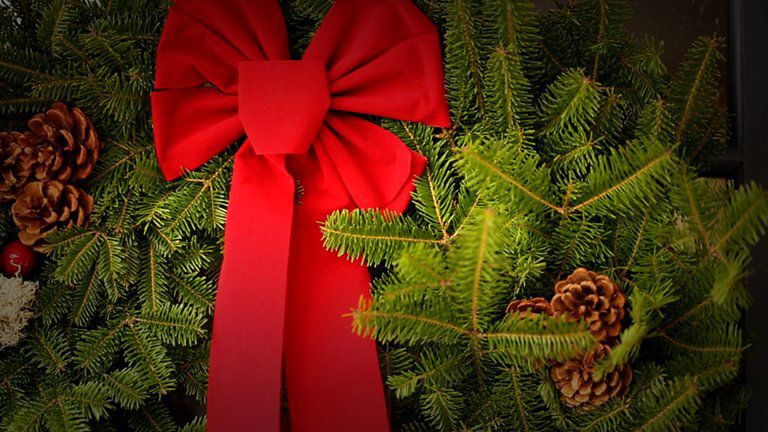 Holiday Wreaths
Nestled in the woods of Downeast Maine, Whitney Wreath designs and creates fresh, fragrant wreaths that bring a touch of traditional New England Christmas to your doorstep.
David Whitney of Whitney Wreath: The L.L.Bean wreath design is tradition. It's trimmed with two different sizes of red berries and a red ribbon. It's quintessential Christmas.
Narrator: Wreath production begins in mid-November to ensure that the balsam stays fresh and fragrant all season long. Trees are tipped – a process of removing the tips of the upper branches – not cut down. This allows the trees to stay healthy in the forest to continue to grow. At Whitney Wreaths, ceiling foggers keep the air moist and all the balsam fresh and green.
David: You can make a wreath out of boxwood or Fraser fir, but nothing – nothing! – smells as nice as balsam fir.
Narrator: Each wreath is made from approximately four pounds of balsam greenery and decorated with real pine cones and other holiday flourishes. Before leaving Whitney-ville, every wreath is doublechecked for quality, fluffed and given a bow.
David: Then it will be shipped, so it's just as fresh as it possibly can be. And that's what it's all about! I want to make Christmas wreaths, so that people around the country can enjoy Christmas the way we do here in Maine.