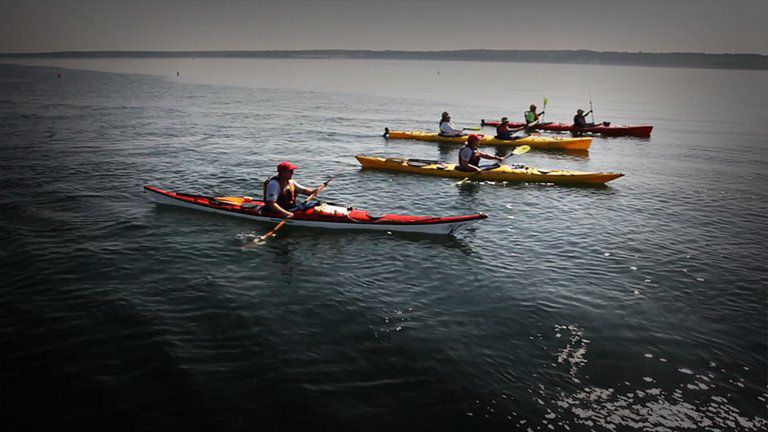 How to Choose a Kayak
Hi. I'm Scot Balentine of L.L.Bean's product development team. Choosing the kayak that's right for you depends on how you intend to use it, the climate where you plan to paddle, and your overall skill level. At L.L.Bean, we offer kayaks in four main categories:
1. Recreational Kayaks: Stable and highly maneuverable, Recreational Kayaks are ideal for beginners and families. They're generally nine to 12 feet long and are offered in both sit-in and sit-on-top styles. Sit-in kayaks have a cockpit and an enclosed deck, so they provide greater protection from the elements. Sit-on-top kayaks do not have a deck, are especially easy to use, and are great for calm, warm waters.

2. Light Touring Kayaks: Light Touring Kayaks are perfect for day trips and multiday outings. Around 12 to 15 feet in length, they have a streamlined hull shape designed to cover longer distances more efficiently. Many feature bulkheads with sealed hatch covers that offer enough dry-storage capacity to carry gear for one or two nights. Some are equipped with a skeg or rudder to help with tracking in current or crosswinds. We also offer a women's-only model in this category.

3. Sea Kayaks: Sea kayaks, designed for intermediate to advanced paddlers, are built to navigate wind, current and tides. Usually 16 feet or longer, they provide excellent secondary stability in rough, open water. Most have bulkheads with sealed hatch covers for sealed storage space and extra flotation. A rudder, combined with a longer water line, increases tracking and control in windy or choppy conditions.

4. Fishing Kayaks: We also have recreational kayaks outfitted specifically for fishing. They're stable and easy to maneuver. Many come equipped with rod holders, anchor systems, tank wells for holding bait buckets and gear crates, extra bungees for securing tackle, and mounting systems for attaching additional accessories.

Whether you're new to kayaking or a seasoned paddler, L.L.Bean is sure to have the right kayak for your needs.