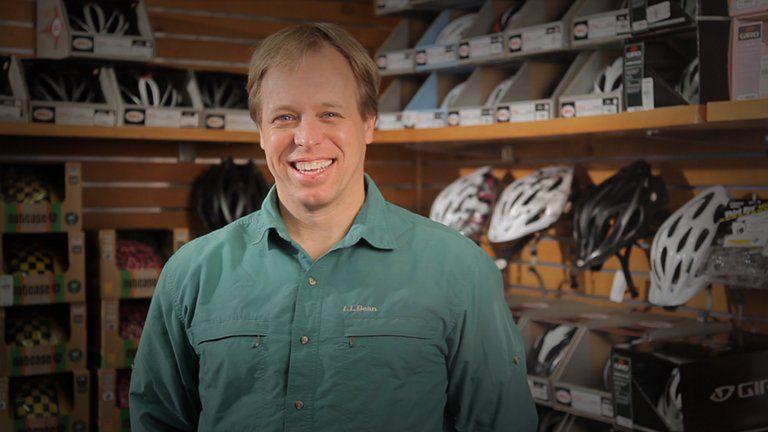 Top Ten Bike Helmet Tips
Regardless of your age or the helmet laws in your state, L.L.Bean recommends that you wear a helmet whenever you ride a bike.
With these tips from L.L.Bean employee Kris Les, it's easy to find the right helmet and fit for safe riding.
1. Measure for the right fit. To make sure your helmet will fit correctly, measure your head around the largest point, above the eyebrows and find the circumference in inches. If you don't have a measuring tape, use a piece of string and a ruler.

2. Select the right type of helmet. Toddler helmets cover the ears and have fewer cooling vents as toddlers are usually passengers. Children's helmets are designed more like adult helmets with more vents for active use. There are many types of helmets for adults, which may include different features specific to recreational biking, road biking or sport biking.

3. Position your helmet correctly. Wear your helmet level on your head and low on your forehead with the front about 1 inch or one or two finger widths above your eyebrows.

4. Position the straps. Position the straps so that they form a V-shape under and slightly in front of your ears. Center the buckle under your chin.

5. Adjust the fit controls. Use the tightening and fit controls on the back of the helmet to fine tune for a perfect fit. You should tighten the straps until they're snug, so you can't fit more than one or two fingers between the strap and your chin.

6. Check your fit. Once you've got the helmet properly positioned, make sure it's snug and secure. Take a big yawn. If the helmet isn't pulling down on your head, it's not tight enough. You want your helmet to stay in the same spot, no matter what kind of terrain you encounter.

7. Keep your head warm. Wearing a skull cap or helmet cover while biking in colder conditions will prevent heat loss. Make sure to readjust your helmet when adding or removing a liner since the straps will need to be loosened or tightened for comfort and safety.

8. Watch for wear. Look for wear, cracks and other damage to determine if you need a new helmet. We recommend replacing your helmet every three to five years even if you keep it in good condition. If you're involved in a crash or your helmet becomes cracked or broken, you'll need a replacement. Never bike with a broken helmet.

9. Take care of your helmet. Don't leave your helmet in direct or indirect heat, as high temperatures can damage the shell. Your helmet can be cleaned with mild soap and water, but you should never use any other solvents or other cleaning products, which can damage the helmet.

10. Never ride without a helmet. Bicycle helmets are the single-most effective way to reduce head injuries and fatalities resulting from bicycle crashes. A helmet should always be worn when cycling so that you'll be safe while enjoying this fun, outdoor activity.