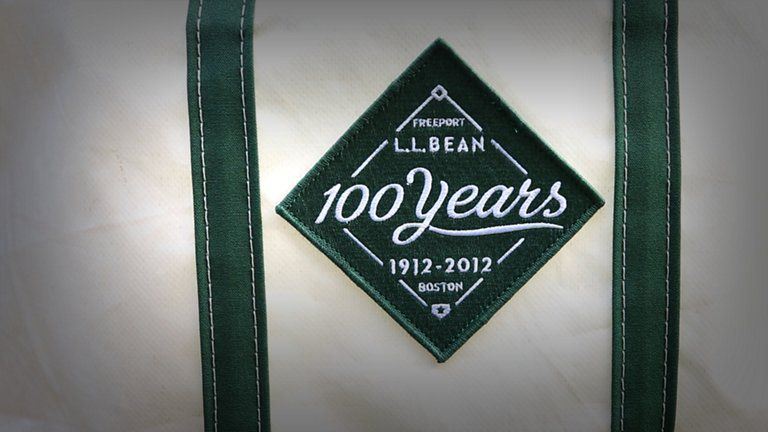 Fenway Boat and Tote
Please note These limited-edition Boat and Tote Bags were created as part of our 100th Anniversary Celebration in 2012, and are unfortunately no longer available. You can read more about all the great events during our anniversary year on Trailmix, the L.L.Bean Blog.
Kelly Warsky, L.L.Bean Corporate Partnerships: Along with his great love of the outdoors, our company founder Leon Leonwood Bean was also known for his passion for baseball, and the Boston Red Sox in particular. Red Sox legends such as Babe Ruth and Ted Williams were faithful L.L.Bean customers, and in 1960, after retiring from baseball, Ted Williams even offered to buy the company.
This year, both L.L.Bean and Fenway Park celebrate 100 years. In recognition of this milesone, we've created the Fenway Boat and Tote Bag, a limited-edition version of our classic Boat and Tote Bag. We've repurposed the rain delay tarp which protected the Fenway Park infield from the elements during the 2010 and 2011 baseball season.
Troup Parkinson, Red Sox Corporate Partnerships: We were really amazed, and the more we talked about it, it was just such a perfect fit. To take our tarp — to take really a piece of Fenway Park that's used on the field, a piece of Fenway Park history — and then cut it up and build it into something that's so iconic with L.L.Bean, and really New England, was really special.
Kelly Warsky: We're producing only 2012 of these totes. They'll be individually numbered and feature an embroidered patch as well as an internal pocket with an inscription about our centennial.
This bag is handcrafted right here in Maine, just like our Boat and Tote Bags have been for more than 65 years. Given the unique nature of the material, every single bag will be different — some might even have grass stains. The Fenway Boat and Tote is the perfect gift for any L.L.Bean and Red Sox fan.