L.L.Bean Visa® Credit Card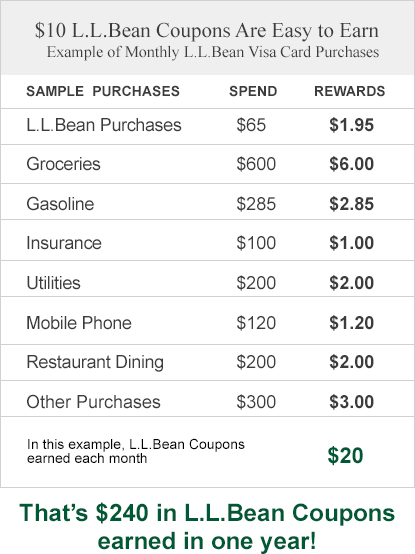 1L.L.Bean Visa Cardmember Benefits
If your application for the L.L.Bean Visa Card is able to be instantly approved, you will receive a one-time discount of 15% off your llbean.com purchase, valid during your current site visit to llbean.com when you pay with your new L.L.Bean Visa Card. Once this llbean.com visit has ended, this offer is no longer valid. 15% discount will be applied to the eligible merchandise total only. Offer applies to merchandise only and excludes shipping charges; return labels; taxes; license/stamps; gift cards; repairs; duty; engraving; monogramming; alterations; gift boxes; select boats, optics, electronics, knives and tools; firearms; Outdoor Discovery Schools private lessons, custom adventures and adventure trips; and Direct to Business orders. Not valid on previous purchases or with employee discounts. Cannot be combined with other percent-off or dollar-off discounts including Special Pricing promotions and other limited-time offers. All refunds will match the discounted amount on the purchase receipt. L.L.Bean reserves the right to deactivate promo code(s) in the event of fraud or technical issues and to limit quantities of individual items eligible for purchase with this discount.
For your security, you cannot use your card on orders shipping to an address other than your billing address until your new L.L.Bean Visa Card arrives in the mail and is activated. Electronic gift cards cannot be purchased using your L.L.Bean Visa Card until you receive your card in the mail and activate it.
Please review the reward summary for important information about the program benefits and features listed above and the Terms and Conditions for full details about the rewards benefits (such as how coupons are earned), interest rates and account fees and terms for this particular offer before applying.
Earn Rewards – Earn 3% at L.L.Bean (valid at L.L.Bean's businesses in the U.S.), 10% at L.L.Bean Outdoor Discovery Schools, and 1% on purchases everywhere else Visa credit cards are accepted. For every $10 you earn, you'll automatically receive a $10 L.L.Bean Coupon in your monthly statement. Redeem your coupons toward L.L.Bean gear and apparel all year long.
Free Returns – L.L.Bean Visa Cardmembers are eligible to receive free Regular shipping on returns.
Free Monogramming – Personalize your L.L.Bean purchase with a free monogram — a savings of $8 per line.
Special Cardmember Sales and Offers – As a cardmember, you're eligible for exclusive L.L.Bean sales and special offers throughout the year.
Apply now and start enjoying the benefits.
2Program Information
Offer subject to credit approval. Not everyone will qualify for the L.L.Bean Visa Card and its benefits. If at the time of your application you do not meet the credit criteria previously established for this offer or the income you report is insufficient based on your obligations we may not be able to open an account for you. Please review the materials provided with the Cardmember Agreement you will receive after account opening for more information about the benefits that apply. This offer is available to new cardmembers only. For information about rates, fees, and other costs associated with the use of the credit card program, please see the Terms and Conditions.
In many cases, applications can be processed immediately and a decision made in as little as 30 seconds. In some cases, additional review of your application will be required. Most applications that require additional review can be completed and a decision made within 10 business days.
The L.L.Bean Visa card is issued by Barclays Bank of Delaware (Barclaycard), Member FDIC. Only the L.L.Bean Visa Card issued by Barclaycard will have these benefits. For full details on earning rewards, please see Terms and Conditions.