Skip to main content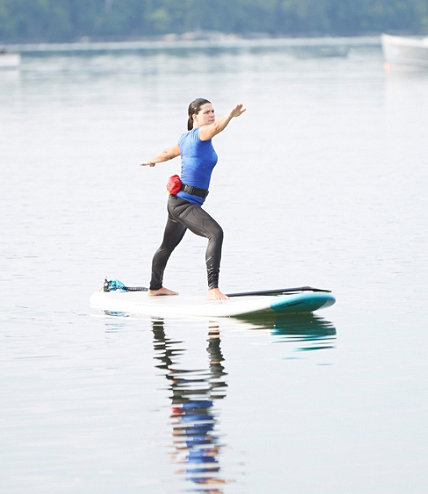 Swimsuit and weather-appropriate clothing (preferably synthetic*)
Small water bottle or hydration system
Personal prescriptions such as EpiPen or inhaler
Closed-toed water shoes
Optional
Hat with visor
Stand up paddle board, SUP paddle and US Coast Guard-approved Type III PFD†
Extra change of clothes
Towel
Lip balm with sunscreen
What We Provide
SUP board and paddle
Inflatable PFD
First-aid kit
Water
Sunscreen
Insect repellent
Take a deep breath, relax and enjoy a peaceful moment on a paddle board. Paddle boarding yoga is a fun way to unwind, tone your core and refresh your mind/body balance.
Prerequisite: Introduction to Stand-Up Paddleboarding or basic skills and comfort on a stand-up paddleboard
Activity level: Moderate to intense
Minimum age: 12 (17 and under with parent or guardian)
Questions? Please call 1-888-552-3261
Stand Up Paddle Boarding Yoga
Paddle boarding yoga offers a unique opportunity to enjoy two fun and healthful activities on calm, pristine waters. You'll be welcomed to the course with an easy introduction to basic paddling strokes and balancing techniques. Our expert instructors will guide you step by step through yoga postures, basic breathing techniques and other essential yoga principles. You'll feel your energy level rise as your body relaxes. You'll move from posture to posture, gaining balance from the inside out while increasing flexibility and strengthening your core. This class is designed for all levels of fitness, allowing you to work and learn at a pace that's comfortable for you. Basic skills and comfort on a stand up paddle board are required.
L.L.Bean does not usually cancel events due to inclement weather. However, we reserve the right to cancel an event at any time due to severe weather, low enrollment or other concerns. If L.L.Bean cancels your event, you will receive a full refund for the cost of your reservation.