Skip to main content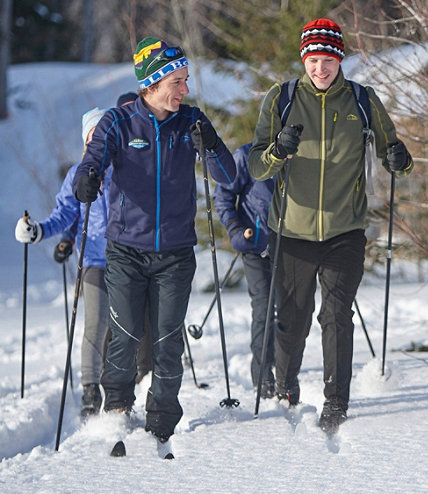 Waterproof-shell jacket and pants
Light- or medium-fleece jacket or wool sweater ? appropriate level of insulation for moderate activity
Long underwear tops and bottoms (synthetic or wool)
Warm hat, gloves and glove liners (preferably waterproof)
Wool or synthetic socks*
One-quart water bottle or hydration system
Personal prescriptions such as EpiPen or inhaler
Day pack (we have a limited number of packs to loan. Call 1-888-270-2326 to reserve).
Optional
Waterproof camera
Lip balm
Backcountry Nordic skis, boots, gaiters and poles†
Extra change of clothes
What We Provide
Use of all necessary skiing equipment: skis, boots, bindings, gaiters and poles
First-aid kit
Sunscreen
Water, snacks and hot chocolate
Prerequisite: Basic Nordic or downhill ski experience
Activity level: Moderate
Minimum age: 12 (17 and under with parent or guardian)
Questions? Please call 1-888-552-3261